Hi!
I recently made some magazine storage boxes (like the ones at the library and at Target, which are overpriced
)...
Here's one:
Looks like wood, eh? Look a little closer...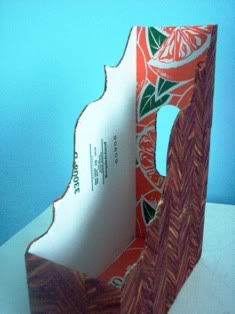 Nope, not wood. They're made from some leftover cardboard boxes, construction paper, markers, and, of course, Mod Podge. Want to make your own? Gather three small cardboard boxes (book it to your local dumpster or supermarket). Trace one of your largest magazines on a piece of cardboard. Then, you can make designs which will embellish your box. Then, cut out the side of the storage box, and then use this cut-out side as a template to trace and cut another piece of cardboard (to create another side to the storage box). Next, decide how deep you'd like your storage to be (mine are about four inches deep), and cut three strips with that width to correspond to the height of the side pieces, width of the side pieces, and length of the front of the side pieces. Then, assemble your box with tape (I use clear packing tape-it's strong!). If you'd like to decorate your box like mine, here's how:
Take out a few pieces of brown construction paper, two or three brown markers, and a yellow marker. Draw diagonal stripes along the papers with the markers until you get a darkness of the grain of your liking. Do this with all of the pieces of construction paper you have (mine required three pieces of construction paper, and is large enough to accommodate a Blueprint magazine). Then, you will cut the paper into strips, first cut lengthwise a strip, then turn the sheet and cut widthwise with the remainder. Keep repeating this until you have cut up all of your paper, with various size strips; this will give you two different grains, allowing you to make a wood-like grain.
Now, whip out your Mod Podge and a makeup sponge (the triangular kind), and apply the strips to your box, so that it resembles this: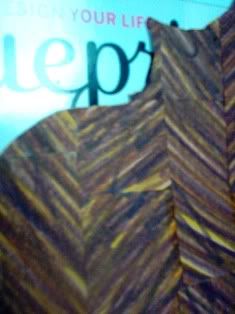 When you're done, let the glue dry, and then coat with a layer of Mod Podge (the glossy kind makes it look like real wood), and chock it full of magazines!
Enjoy!