Me too.. mines in transit I can't wait to see what KatJones has in store for me =D We both opted for surprises so we each have no idea what we're getting... I'm on the edge of my seat!
My booty is here at last
KatJones did a great job! I love it! Thanks for making my first swap a success =D WOO HOO!
Here's Z kitty checking it out- I think he likes it! Well he is an agent of death so he should approve right
Here's a close up of a cool little pill box that had the earrings as a surprise inside of it.
I think the earrings are made out of little milagros- a sacred heart and a praying person I think- I can't wait to wear these tomorrow =D I also got an awesome little pin cushion made from the same fabric as the purse I got- see action shot below
I've been thinking about trying to make a pin cushion- now I don't have to - hee hee. Kat also included a section of the local paper with day of the Dead goodness in it's pages- I was too excited to post pictures up so I haven't had a chance to read it yet- I'll let you all know what goodies I learn from it!
Now for the action shots- they seem all the rage these days =D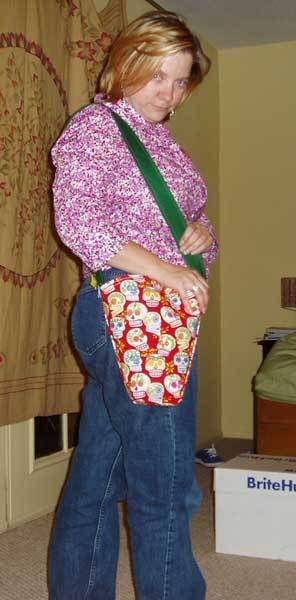 Thanks KatJones I love what you made for me =D Not only is it fun but it's educational as well