My 13 year old said that I MUST learn how to make that for her...She aslo said it would look good as a watermelon...I just love it. Im not sure how it would look on me...maybe like a fruit truck hit a wall....a veeeeery BIG wall. But I may have to try this one for Kayla.

Haha, that made me laugh, but I was thinking of the watermelon thing, too. Hm... It could also be a tube top-ey thing
Too bad I don't wear skirts or tubetops! Le sigh.
Quote
hehe
1) it made me laugh too!
2) im a 13 year old and i want one! w00t! not sure how to go alongst making a watermelon one...
3) TUBE TOP! yay! thatd be ACK! IDEA
a tube top DRESS lik this: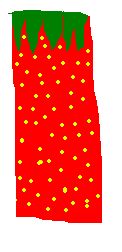 id TOTALLY love to make that! ooh! new project!
thnks for the jumping off point
for you:
1) VERY cool!! very good job!
2) kudos on the patience with the lello fabric marker!