Okies heres a tut. I had taken some inprogress pictures but some I didn't so I'll have to use finished photo's so that you'll know what I mean. The pattern needs to be regular page sized.
http://i109.photobucket.com/albums/n61/MrsHallsCrafts/pattern.jpg
Linked out becasue it's a big file.
Now you'll want to cut those out with some space around the pattern for your seam alouance. I didn't factor that into my pattern I jsut cut them out of the fabric with it.
Once you have done that you should have something like this:
(I forgot my ears and paws don't follow my example)
Flip your fabric so that it's laying with both fuzzy sides facing each other and wrong sides out.
Sew together leaving a small hole to stuff. turn inside out:
Then stuff.
I pinned the edges slightly turned under so it would be easier for sewing:
then whip stich sides together.
and you should have something like this: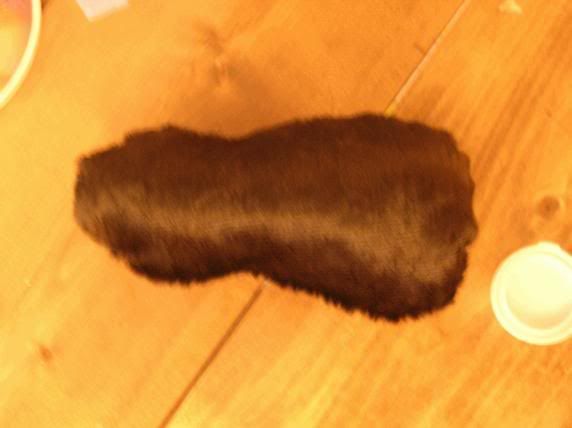 Once you've done this with all your peices you can start assembling the rat. I pinned the parts in place first to make sure I put them in the right places.
Then sew them on very carefully. Make sure your stiches are tight. I had to hand sew this. I think I used a whipstich but a blanket stich works fine too.
For the tail I cut three pices of the same fabric and braided them together:
I kntted the wide part and bradied then tied a piece of stray thread around the end when I was done.
here's the finished project:
http://i109.photobucket.com/albums/n61/MrsHallsCrafts/ratanime2.jpg
For the paws I used contrasting fabric but you could do them the same color py laying and pinning the pattern pieces together on the fabric and cut it out as one peice.
I know it's not the most detailed tut but hopefully it helps. if you have any questions on how I did anything let me know.