So it's a couple of weeks til Mother's day this year and I wanted to do something special and homemade for my mom. I had this idea to organize my seed in a "garden book" and never got around to it so I decided since she loves to garden, I'd make it for her. I didn't have time to make a book so I used an old binder, covered it in paper and painted it. I painted a tulip on the cover because that is my mom's favorite flower...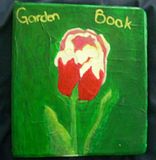 I organized the seeds into categories:
flowers
vegetables
squash (This has it's own category because my mom loves squash more than anything else in her garden)
(I was going to have spices in the last category but ran out of time and money for seeds which really adds up btw)
This is the flower page...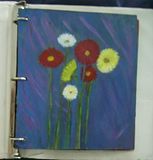 And this is the back of the page where I made little pockets for the flower seed packets to go in...
Next are the veggies (I painted all these in art class)
And of course, the SQUASH!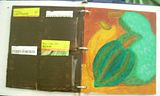 If I had more time, I would have made the inside brown just like the pages to get rid of the yucky white binder color. She loved it anyway and likes to show it off to company. She can't wait to taste that squash