I finally found my cable, so now the fabulous goodies Rebeldaisy can be displayed.
When I opened the package....how delighted was I to see my favorite shade of green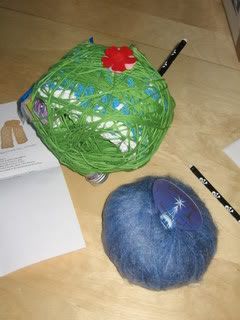 Ok...here is a picture of all of the stuff unwrapped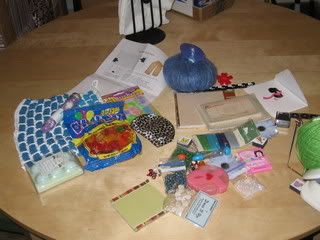 And a close up of a few of the special goodies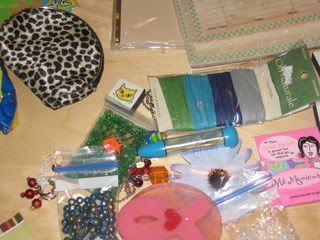 There were the most fabulous things in this myb:
tons of beads and buttons
some pretty sweet pirate pencils
a breast cancer awareness soap
some beautiful stitch markers
a really cool necklace
flower magnets
these super cute mini nailfiles, which I always need
gummi bears, which have already been consumed
some cute note paper and recipe cards
a felt flower pin,
oh a lovely dish cloth in some of my favorite shdes of blue
a delightful extra ball of blue mohair
I feel like i am forgetting something because I was so spoiled....
Thanks Rebeldaisy, it was a fabulous swap!