Soooo, this weekend past I went to an
SCA
event
. It was absolutely awesome! The entire weekend was class after class after class of all sorts of things, from costuming to cooking to stone carving. I'm not exceptionally proud of my sugar paste modeling results (though the wasps sure liked it...) or of my leather carving and tooling results, (though both classes were a blast and the teachers were great!) but I'm proud of my results from the limestone carving class, and I have to show off. I've never had the opportunity to try stone carving, so it was delightful to learn how (relatively) easy it is. A cold chisel, a mallet, and various files and rasps all worked with relative ease.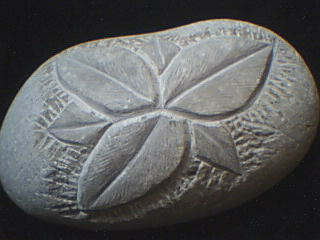 I like the first view the best - you can see the rasp marks on the petals and leaves, I was trying to go for them looking like the veins of the leaves.
The little dark splotch you can see in the stone outside the leaves in the top middle of the second picture appears to be a fossil. Not sure of
what
, though.