so, i have graduated from long rectangles (scarves).
my grandmother used to knit these slippers for everyone - friends, family, etc. i inherited her knitting/crochet notebook with all her notes and patterns and i managed to figure out her pattern (which ended up being really simple) by comparing her notes to an actual pair she had made for me.
you make them on two needles and then sew them closed. they call for red heart yarn, double strand. i like to use the variegated red heart yarns because they knit up so prettily.
i made several pairs as gifts for x-mas:
my aunt's: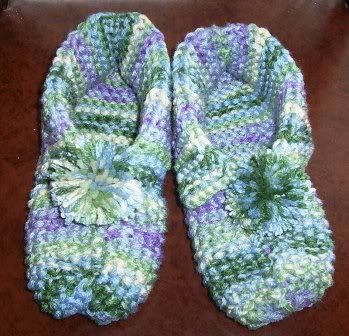 my dad's:
yes, even my dad wears them...he loves them, but they have to have "manly" colors. these, for instance, are michigan colors and quite acceptable.
i also made a pair for my mom, but i didn't get a picture of her's. they're lovely teals and purples.
-----
so, of course, i'm continuing to make the slippers even in the new year. so far, i've done:
my best friend: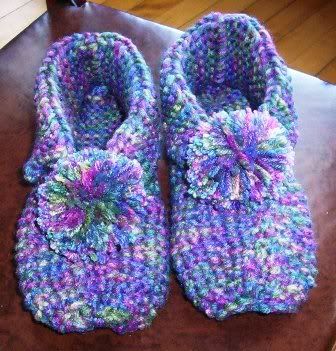 my other grandmother: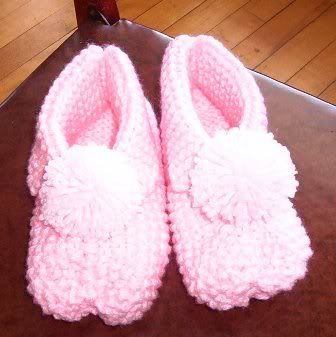 and i'm now working on a pair for myself (finally).
---------------------------------------------------------------------------------------------
here is pattern for the slippers! this is the basic pattern for a ladies slipper, about size 7/7.5. it will seem really small, but these do stretch. i figured out my grandmother's pattern in her notebook, which is far less detailed than this. and i don't have a really extensive knitting vocabulary, so i just did my best to describe everything as detailed as possible.
needles: size 9
yarn: 2 skeins red heart
you will use a double strand, meaning that you will be using both skeins at the same time. (hope that makes sense!)
cast on 41 stitches.
HEEL
:
row 1: K15, P1, K9, P1, K15
row 2: K5, P1, knit to last six stitches, P1, K5
*row 1 and row 2 together make 1 "ridge." i don't know if that's a technical knitting term, but that was what my grandma used for her own notes.
you will knit 16 "ridges" for the heel. on row 2 of the 16th ridge, you will cast off the first 6 stitches and the last 6 stitches. these will be your cuffs.
TOE
:
row 1: K1, P1, K1, P1, K1, P1, K1, P1, K1, P1 (that's 10 stitches total), knit 9, then P1, K1, P1, K1, P1, K1, P1, K1, P1, K1
row 2: K1, P1, K1, P1, K1, P1, K1, P1 (that's 8 stitches total), knit 13, then P1, K1, P1, K1, P1, K1, P1, K1.
*again, row 1 and row 2 together make 1 "ridge." you will knit a total of 12 "ridges" for the toe.
CASTING OFF
:
after you have finished all 12 ridges of the toe, you will K2TOG. since there is an odd number of stitches on the needle, you will K3TOG at the end. leave a long tail (maybe 18 inches) and cut the yarn from the skein. thread one of the pieces of yarn on a darning needle and run it through the remaining stitches left on the needle, then pull it all off the needle, tug it together, and tie a knot. you will need to thread both pieces of yarn on a darn needle and sew up the slipper. not hard at all, i usually do it with the slipper inside out. this may sound confusing in words, but one you're to that step, you'll see what i mean and you'll know what to do. you'll also need to sew up the heel with yarn, too. i do use a double strand of yarn for that as well.
-----
now, if you look at the heel section, you will see that there is a middle section of 9 stitches. that is the sole. if you need to make the sole wider or narrower for a person, add to or decrease the number of stitches in this section only. the sections on either side of the sole make the cuff and the sides of the slippers and they are pretty standard on everyone, including men with very large feet, so you shouldn't need to make adjustments unless you are knitting a pair for a baby or young child.
if you need to make the slipper bigger or shorter, add "ridges" to the heel and toe. there should always be 3 to 4 more ridges in the heel than in the toe, and i can say this accurately because my grandma has notes on slippers for kids in our family of various ages and for adults (men and women) of various sizes. in the case of very large feet, maybe 4 or 5 more heel ridges than toe ridges. you want the cuff to come up around the front of the ankle to keep you cozier!
-----
POMPOMS
:
i prefer the cardboard method of making pompoms and i'm just going to post a link to a tutorial with pictures from the internet.
link to pompom tutorial:
http://www.helloknitty.com/pdfs/pompom.pdf
-----
i hope this is helpful to you and isn't too confusing. once you get going, it really is very easy. i take these things everywhere with me and i usually knit them while watching t.v. because they are so quick and easy.
feel free to ask any questions and i'll try to help you out. i'm sure there are lots of ways to make these. i like this pattern because it was my grandma's and because it uses the two needles rather than dpn's or circular (which i've not worked with yet!).
if you knit any, be sure to post so i can see!!
good luck and happy knitting!