I'm in the middle of moving, so I can't really provide completely finished FO pictures of this, but I've been antsy to post and show off so I'm doing it anyway.
The pattern is the Sahara Sweater from Stitch Diva
http://www.stitchdiva.com/ProductInfo.aspx?productid=SDS-031
This is my first sweater, and it was pretty easy, and I learned a LOT while doing it. I finally figured out the M1R and M1L increases (I still hate them), perfected my technique joining two skeins of yarn together, and learned how to do short rows, lace knitting, the mattress stitch, and provisional cast-ons. There are definitely some spots where I made mistakes, but I'm pretty pleased with my results.
Yarn: Tahki Cotton Classic in Khaki Green and Karabella Glimmer in Green/Gold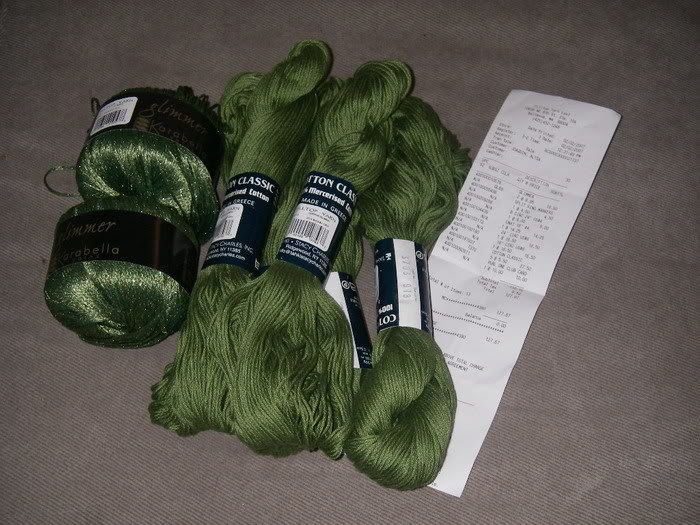 Finishing the front seaming (I had it on because I wanted to get the depth right)
Don't mind my loose ends
It took me about two months to do it, which was longer than I'd hoped but I wasn't working on it a whole lot. I pretty much knit the whole thing at work while things were slow and while carpooling to and from work. I did the last bits of it sitting in the dark corners of a dance club, and when I'd finished up with the loose ends, I put it on in the bar and started on my next project.
NEW FO PICTURES!!!
Finally found my camera charger, so here is the finished thing! I'm still going to do a bit of blocking, but I can't until we're all finished unpacking and I have my craft room set up again.
The back. You can see the scoopy-hem of the bottom pretty well in this picture.
The sleeve caps are worked in short rows. I'd never really done these before. The right sleeve was fine. But the left sleeve...
Friends don't let friends do short rows drunk.
Detail of the diamond-lace pattern
All done!