It was a dreary brown Christmas here, a bit of a disappointment. But that's OK, I did not mind the warmer temperatures that came with it, and I made snowflakes for everyone so we could appreciate their beauty without all the shoveling and salting that goes with it.
Actually, I had started making woodburned ornaments earlier this year, but the problem was that when we packed away the stuff for renovations, the ornaments got packed away too so I could not finish them.
But I made these from some long bugle beads I had, with firepolished crystals and various sizes of seedbeads, and wire; after taking a brief workshop with the designer, Maria Rypan, earlier this year.
I made them in a variety of silvers, blues, and iridescent/clear bead, and added them to cards, and as add-ons to presents. But I did not have enough to give away to everyone at our family Christmas party, so I may make more for next year. Instead, I made bath bombs and handmade cards for the family party.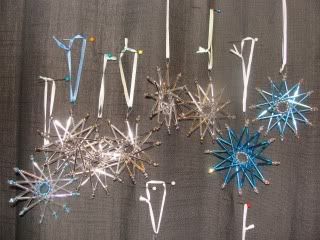 they ended up being about 3-4 inches in diameter - roughly palm sized.
Here is my blog posting about them
http://onyxnox.blogspot.com/2011/12/wishing-you-all-merry-christmas-day.html