For my boyfriends birthday he wanted the way overdone Che Guevara Painting. Yawn, though I being the loving girlfriend I am I did it anyway.. I tried to add a little spin on it. Tried...
It wasn't as bad as I make it sound, I loved making this painting for him & he loved that I did it. He claims it was the best birthday ever. Aww...
I didn't use a stencil, I free handed it, but made it look like the stencil. I hate cutting stencils, HATE it, so it was much easier for me to just draw it out.
Here is the horrible camera phone close up...
The even worse camera phone full shot...
Texture close up... again the ickybadawful phone photo...
& on his wall... Much better picture, but you can see a bit of the glitter that has fallen off of the ribbon I wrapped it in.
He likes the glitter, I don't. It makes the matte black look funny. There is sliver in the background though, but that darn glitter makes it hard to tell... grr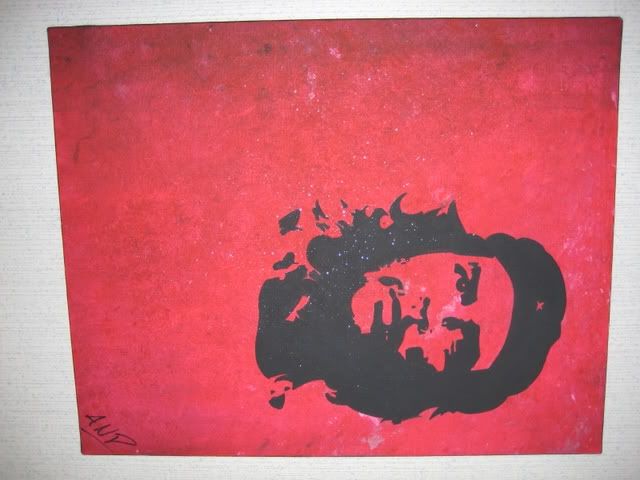 (First post of my own work... I'm a bit scared... & I'm sorry for large pictures, I have no idea how to shrink them.)
So... What do you guys think?