Here's my son Jakob in his SuperBaby costume. I wanted to make him something special for his first Hallowe'en! It is knit using King Cole Smooth DK and is one piece with snap tape up the back. The cape is detatchable and held on with buttons that slip through the knitted stitches, since I didn't want to use velcro that would show when the cape was removed.
I began on October 4th and finished early in the morning on the 31st. The entire costume was hand made and I designed the pattern as I went along.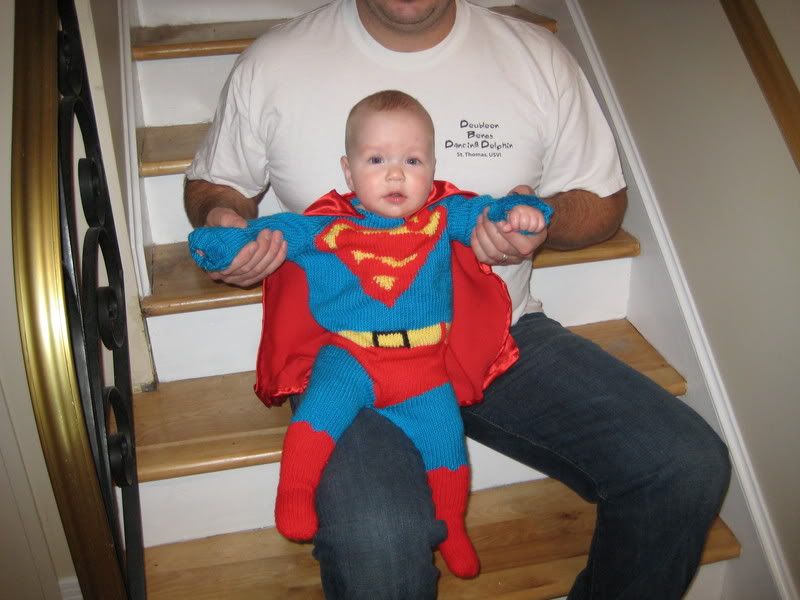 I hope you like it, I am so proud of it!
Jennifer.
Edited to add: Thanks to everyone for the incredibly sweet and generous comments! To answer some questions: Jakob is 5 1/2 months old. I worked on it mainly when he was in bed at night, which occassionally meant I was stuck waiting for morning to continue because I needed to try it on him before I could proceed.
If there's anything else you want to know just ask or you can visit me at my blog, or email me at jeloca[at]sympatico[dot]ca
Thanks!
Edited a second time to add:
I don't know if this is allowed, so if I'm breaking a Craftster rule please let me know privately and I'll remove this part of the post.
Can I ask the people who view this post...would you pay for a pattern for a baby's superhero costume? There is no pattern yet, so I'm not soliciting for sales here. I'm just wondering if it would be worth my time to work up a pattern and figure out more sizes, maybe from 6 months to 18 months. Would this be the type of pattern you wouldn't mind spending a few dollars on, or something you'd expect to be a free pattern? I'd love to know what you think or if there would even be a demand for a pattern of this type. (Maybe I'm the only one crazy enough to knit a full-body costume?)
Thank you!
Edited a 3rd time to say:
It seems people would be interested in the pattern, so I think I'm going to work on something. If it gets anywhere I'll edit again to post a link to the pattern.
Thanks for the support!