I went to K-Mart and bought myself some $3 skimmer/flat things out of boredom and decided that plain white would get way too dirty with all the ambling around that I do. Being totally spontaneous, I started drawing stars on them without really caring that Sharpie kind of bleeds onto the canvas. The black outline masks it a little, and I'm sure it'll only bother me..
Here's some before and after pictures for your viewing enjoyment.
before:



after: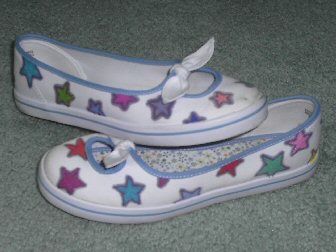 I'm not sure if I want to do the bows or not, I figure if I get the urge to, I can pry them off of the shoe and if not, they do make for a nice contrast. Not too sure yet.