Both of these are improvised using leftover yarn from other projects.
Hat #1:
yarn- Lion Brand Wool-Ease Chunky, in Spice
stitch- half double crochet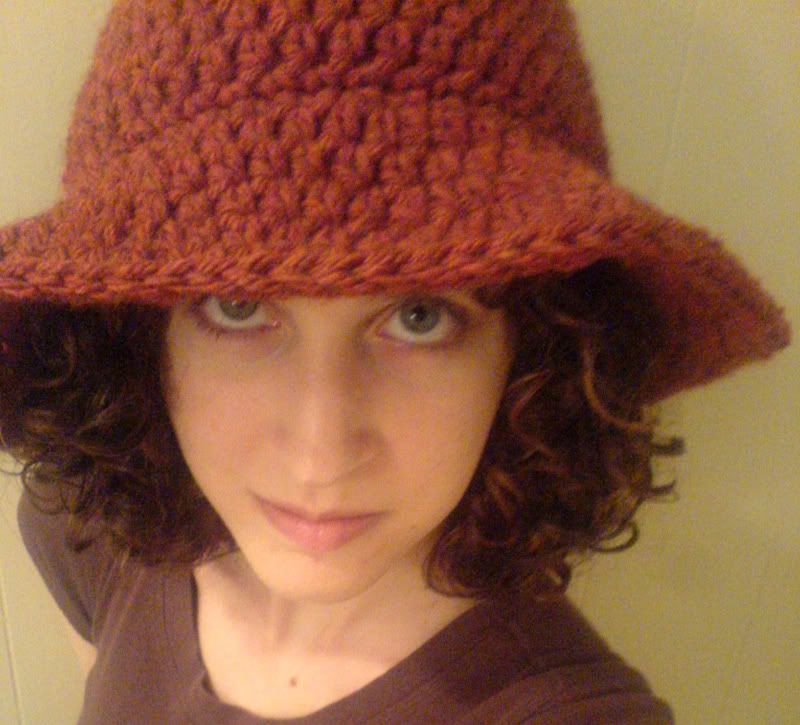 /De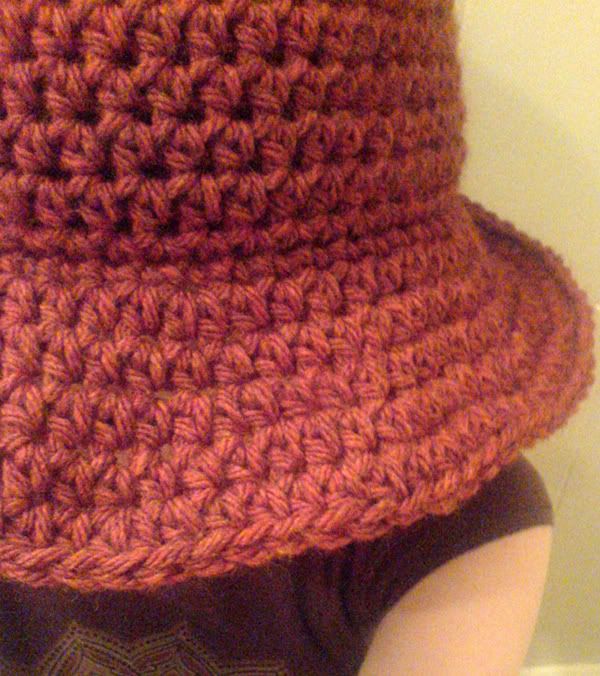 Hat #2:
yarn- TLC Essentials, in Claret
stitch- single crochet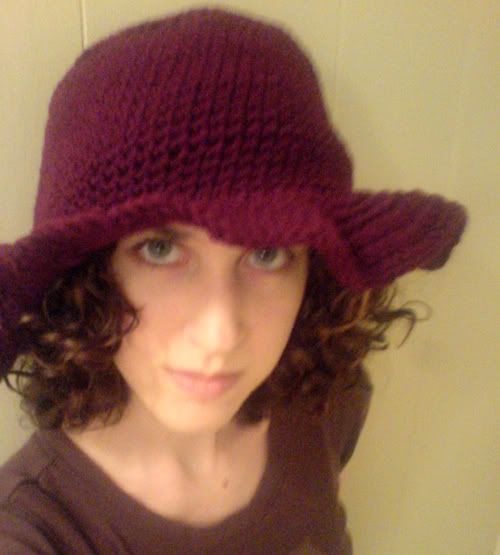 Gratuitous Goofy Myspace-ish Pose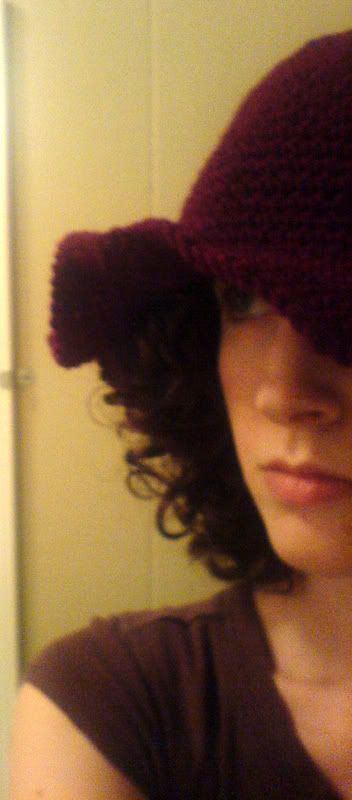 Edit to add tutorial:
I've never really written a tutorial before, I hope this helps. It's not stitch by stitch, mostly because I have no idea how to make a regular sized hat- I make all my hats really big to accommodate my poofy hair.
1. Choose yarn and hook size. I used thicker yarn because it would give me a thicker hat (and because it's what I had on hand). I think you could pretty much use any worsted weight to chunky yarn, and I would recommend using a size smaller hook than recommended to yield a stiffer fabric. If you want a floppier hat, you can use a larger hook and/or lighter weight yarn.
2. Choose a stitch. I picked half double crochet for the first hat and single crochet for the second because they both create stiffer fabrics.
3. Crochet a circle big enough to cover the top of your head, working through
both front and back loops
. (It's not really exact science, I know there is a formula for this somewhere, but I've forgotten it, and just kind of made it up as I went with kind of evenly spaced increases.) Oh, and I like to begin the round using the Magic Adjustable Ring Method- it gets rid of that pesky little hole that occurs with the usual method. There's a good tutorial on it at CrochetMe.
http://www.crochetme.comc_Jan_0405/reads_round.html
4. Once you have your circle, crochet one round through the
back
loops only, without increasing.
5. Then, crochet through
both
loops again, but still without increasing. This will form the sides of the hat. Keep going until you get the length that you want.
6. To make the brim, crochet one round through
front
loops only. Then, again working through
both
loops, crochet in a circle (with evenly spaced increases, or again, as in my case, just making it up as you go, with semi-evenly spaced increases, or not-so evenly spaced, which is why the red hat's brim is so wavy
) until the brim is at the length you want.
Weave in ends, and you're done!