So my mom(PrimAtHeart) is on Craftster too, but she isn't too familiar with using it so I am posting this for her. She used to make these all the time years ago, and then one day she just stopped. With some coaxing, she started to recreate.
These are entirely made from broken watches that she has gotten from friends, family, jewelers, anywhere really. I only have this photo, but she has about 30 made varying in size and shape.
I "borrowed" one for myself and I plan to wear it on every scarf come this fall. Hope you enjoy!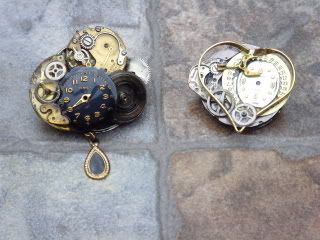 Here's some new ones that I took photos of when I went there today. The last 2 are necklaces!