Here's some pendants I have done already that I will offer. I am going to make some more this weekend that I will add to the mix so people can rate what they want.
white daisy, red daisy and blue with pink sea shell. I am going to make pendants with yellow and pink daisies too.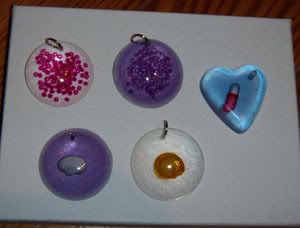 pink beads, purple with purple beads, blue heart with pill, yellow sea shell, purple with white shell. I will post a pic after I make more so the people who are receiving me can see all of the finished ones.
Sorry the pics aren't that great right now
Hope u like them!