Okay, here are the pics of the adorable vintage zoo tin lapoli sent me: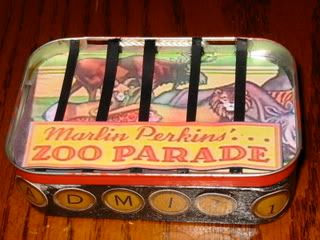 Here's the inside of the lid which magically became the outside of the lid. She put the lid on backwards with a loop of string so that the 3D cage could be the outside. Very clever. I'd never heard of Marlin Perkins, but Wikipedia gave me a little info. Apparently he hosted a show called Zoo Parade way back in the fifties.
And inside the tin: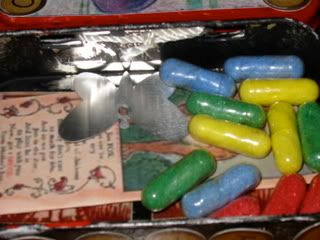 PHARMACEUTICALS!!! No not really, but just as good. These are the little sponge creatures that you put in water to release them.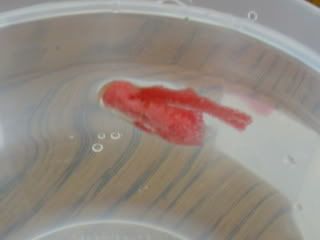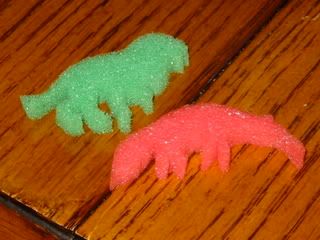 I got an action shot. I think that these might actually be dinosaurs, but until someone convinces me otherwise, the red one is an anteater with a beaver tail and the green one is a monkey with a giant growth on his chest. I'm saving the others for whenever I need a little pick-me-up. I've thus far resisted the urge to suck on one.
Also in the tin: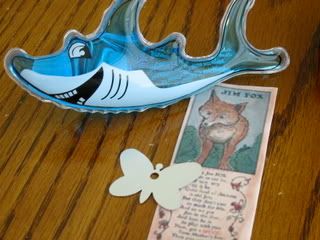 A butterfly charm, a cute little fox bookmark, and a sharky shower gel which smells wonderful and I can't wait to use it.
Finally, here are some close-ups of the different sides of the tin: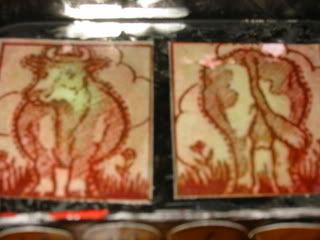 Thank you so much, lapoli! This is really adorable!