Hey guys
here's a cat scratching tower i made for my 2 burmese kitties, i used 2x sheets of mdf, carpet samples form Andersons (free), PVC piping (free from a plumbin outlet store), PVC pipe caps to attach to the mdf and lots and lots of carpet tacks.
I can write up a tutorial if anyones interested? the whole project cost around$40 bucks (AUS)
cheers w x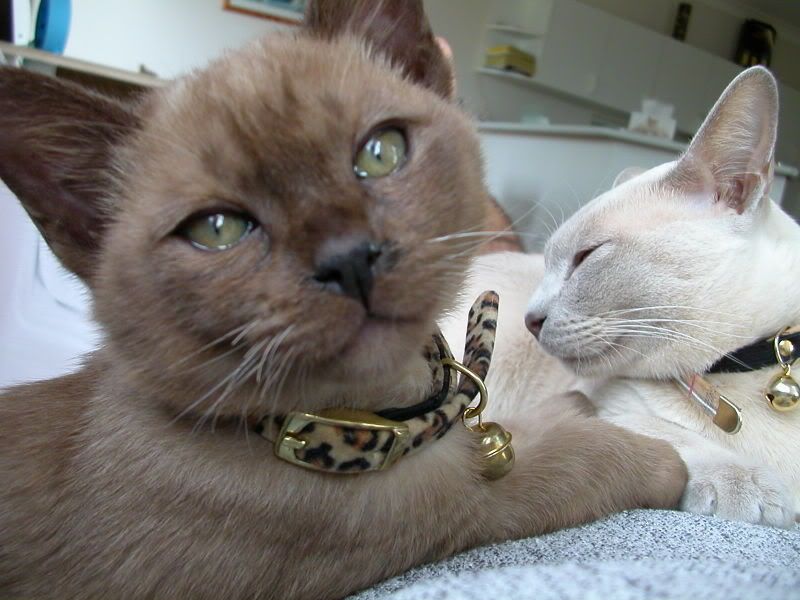 Quick tutorial guys,
you will need:
* MDF or particle board (3 peices)
* Carpet samples for covering the platforms and pipes if you want
* Screws and a drill for the PVC caps
* PVC piping 10mm 90cm x 3 pieces for the bottom legs
* PVC piping 10mm 60cm x 2 pieces for the top legs
* Rope or carpet for covering PVC verticle pipes
* Carpet tacks or staple gun
* Liquid nails or other heavy duty glue
http://i23.photobucket.com/albums/b389/original_quixotic/tutorial.jpg
Step 1
trace out a design on the MDF or particle board similar to the picture above
Step 2
cut out the PVC piping to lengths that you're happy with, I used 90cms for the bottom 3 pieces and 60cms for the top 2 pieces
Step 3
so that you can dismantle to the tower later if you need to, the way i constructed it is so the pvc caps are glued and screwed into the mdf and the poles just slot easily into them and can be taken apart just as easily. See below for placement:
http://i23.photobucket.com/albums/b389/original_quixotic/tutorial2.jpg
Step 4
Work out where you want your poles to be. I used a tripod design on the lover level for extra stability. Place the poles where you want them and trace around the tops in order to get exact placement for where the caps will need to be screwed in.
Place some glue on the PVC caps once you're happy with the positioning and drill three pilot holes for the screws. Securely screw in the PVC caps to the MDF and then be sure to check that they again line up with the ones the pipes will slot into on the platform below.
http://i23.photobucket.com/albums/b389/original_quixotic/tutorial3.jpg
Step 5
Using glue and carpet tacks or glue and a staple gun line up your carpet on the MDf and begin attaching it (note you will need to cut out holes for where you have attached the PVC caps.
Step 6
Using the liquid nails attach the rope or carpet to the verticle PVC pipes being sure to leave a couple of cm's uncovered each end to allow the pipes to still slot in to the caps.
Allow to dry, construct the tower and let your cats go wild!
I hope I've covered everything, if something is unclear please let me know.
Cheers w x