Loved this pattern on the lionbrand website...
http://cache.lionbrand.com/patterns/60607A.html?noImages=0
thought I would make it for my sister's birthday.
I couldn't find any superchunky wool in the UK that was affordable/to her taste so I ended up with boring grey in chunky. King Cole Magnum Chunky 75% acrylic 25% wool.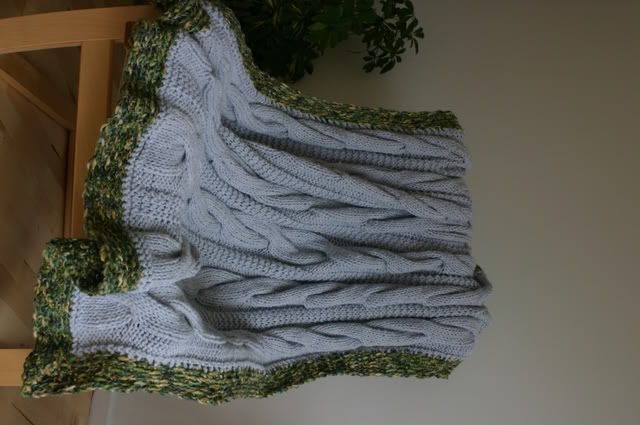 Used US size 15 needles and did 7 panels instead of 5. Also worked all panels at once instead of individually and then sewing them together. Obviously needed more balls than their recommendation, but even when it was 1.5m square i decided it needed to be a bit funkier...
Found sirdar juniper in this greeny colour. again not what i was looking for, but time was running out and i didn't fancy my chances with choosing something to match/contrast on the internet. I crocheted the border (just under 6 balls used)
So yeah, am not 100% about this blanket.. shame really-what do you think? Not sure what my sis thought really... Least it's non itchy and cosy...