My favorite restaurant (ever) is The Melting Pot in Columbia, SC. It's a fondue restaurant with great atmosphere. It can be lively and fun for larger parties, but it is also very romantic and cozy with a table for two. Okay, on to the ATCs!
The 'appetizer' cheese course, complete with veggies. YUM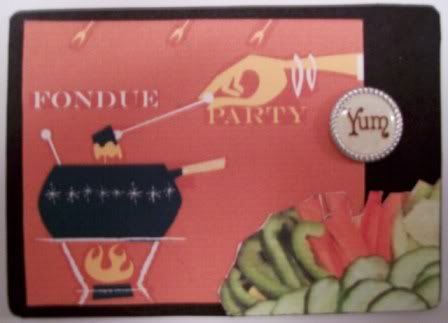 The entree/meat course with accompanying dipping sauces. From left to right: steak, pork, and chicken. SHARE
And the best part, dessert. Chocolate fondue. LOVE
All together...
Comments welcome and appreciated! I hope you guys like them! I had a lot of fun making them. They are my first 'set' of cards of the same theme. And they are my number 19, 20, and 21 cards, respectively.