So I knew I needed to make one purse for the craft-a-long un-swap.... and I ended up making three. I'd made boring, square, tote-like purses before, and wanted to try something new. So I scrounged and made three purses from the tutorials on this site. TADA! Let me know what you think!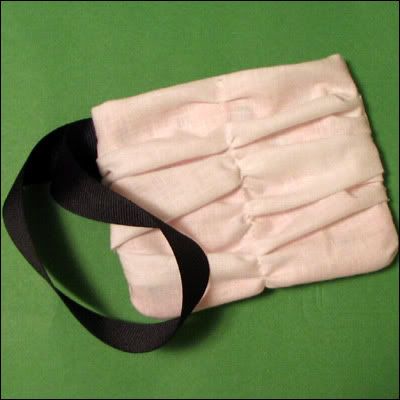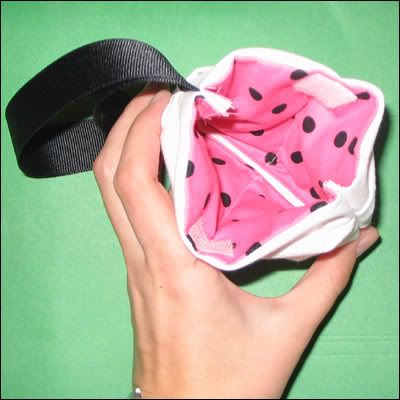 Mini ruffle coin pouch? using the great tutorial by nelly (with the beautifully drawn ruffles...lol). I had some problems making the ruffles nice and even, and I forgot to change my bobbin color to match the inside... oops. I also need to work on making the inside more finished. It has a velcro closure and a ribbon wrist handle. Pretty cute... I think I'll give it to my sister for her birthday, with the beautiful necklace I bought her inside. Its a nice jewelry pouch.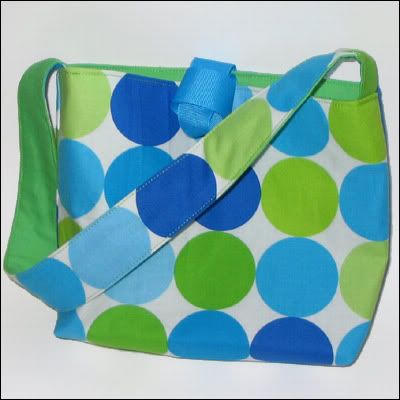 Oh jordy! I love this bag! I love this fabric! Everything turned out much better than I had expected. I'd have to call this one my masterpiece. It has green lining and a turquoise ribbon tie. Very cute.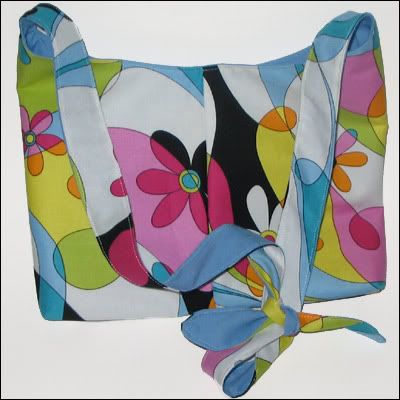 This one was my battle of the day. I used the great hobo bag tutorial... but my own stupidity caused me to fail miserably. First, I cut out the very nice pattern, and began to chop into my fabric (which was very hard to do... seeing the huge long strap being cut right out of the middle of my brand new fabric... i hate to see any go to waste.) Half way into cutting, I realized I didn't take into account the seam allowance. Oops. to make up for it, I began sewing as close to the edge as I could. Oops again. the straps gave me the most trouble... they didn't quite line up and I had to restitch over the spots that I missed. To top it off, the interfacing I used got horribly misaligned somewhere in the process. this time, I had gone to far to break out the seam ripper. I bought a few of those nifty magnetic purse snaps, and decided to use one on this bag. I attatched them, and proceeded to finish off the bag. Almost done, and about to close up the hole (to turn it inside out), when my snaps snap together and won't come undone. Yea... i bought the super strong magnetic snaps. I practically ripped my fabric trying to get them to come apart. fortunately, I still had my hole... so I reached in and took off the snaps. It needed some closure, so I (being lazy and not wanting to rip any seams) tried to sew patches of velcro on my machine through the small hole in the bottom. (I only thought of hand sewing it later). Something in the velcro pissed off my machine... it looked like a rats nest on the bottom side. Oh well, no one will see it. However, it also messed up the tension (I was as tight as it goes... 9... and the thread was still looping.) I finally had to use the seam ripper... blew my machine out with one of those air dusters, rethreaded everything, and it seemed to be better. I finally got the hole closed and the top stitched... what an ordeal!
(sorry for the long post... just thought I'd share).
Anyway let me know what you think!