Bag Title: Pink Paradise
Your Obsession: The color Pink!
I had wanted to make this bag for a while and this challenge gave me the kick in the pants to finally start it. I love the color pink. I have pink everything. Even a pink sewing machine. And that paired with the want of a tropical vacation gives me the perfect bag. Its a messenger style purse with a pocket on the inside. I hope you enjoy it!
Bag pictures:
My bag
The flap opened up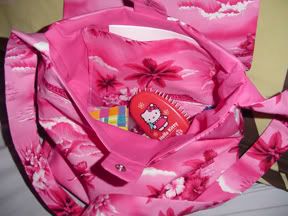 This inside with its pocket