If you haven't been to South Carolina, we love our state tree, the Palmetto, a bit too much..we put it on EVERYTHING....clothing, cars, shoes, flags, purses, mailboxes, etc. Our malls have stores dedicated to selling anything with the tree on it. Well this year in my room at school I had a huge blank wall because I was tired of the cheesy posters. So what else would I put there? I couldn't afford the flag (if you've been in college you know..) so I improvised...
Its made up of scrapbook paper on plain white poster board, and sealed with modgepodge. It took about a day off and on and I love it! I get many requests from friends to make them one.
Here is its size in relation to my stuff (don't mind my junk
).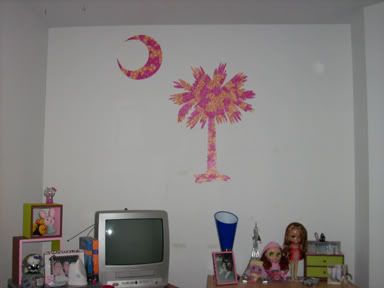 Thanks for looking!!