Here are some *more* pet portrait charms. These were made for a wonderful charity called Bullies In Need who are based in Ontario Canada that came to be, unfortunately, because of the pit bull ban in Ontario. They rescue bully breeds and find them loving forever homes. It is thanks to them that I got my dog, Kali, a wonderfuly pitbull/am staff mix who has become my Jack Russell Terrier's best friend and my angel.
So here are the charms! A bully and a charming African Grey.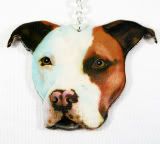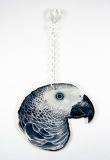 They are hand-drawn on shrink plastic with mostly Laurentien colored pencils.