now you all prepare to be jealous because I just picked up and opened The Package
I can't believe all the things addicted2knitting crafted for me and all the extras! I could never imagine a better first swap
now with the goods!
I opened a colorful package (I folded the color papers you wrapped everything in becuase they are just so great!) to find the most gorgeous knitted bag ever! just check the pictures... the colors are absolutely beautiful and it's so nice to touch! I never had a knitted bag before and now I can't stop touching it
It even has a back pocket for having things handy. I plan putting some change for sweets and such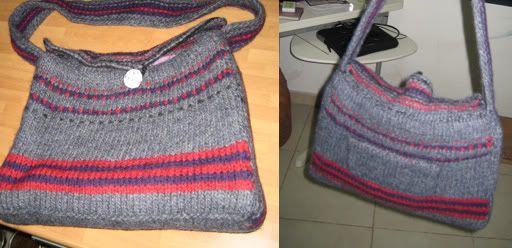 the bag came filled with tons of other goods! now, why did she knit that beauty for me? because I happened to tell her I love to take my laptop outdoors and sit at some cafe to write. so she made the perfect bag for my 12" laptop, which fits perfectly and has tons of room for wallet, battery, keys, candy, notebook... one of my kitties, boss, agrees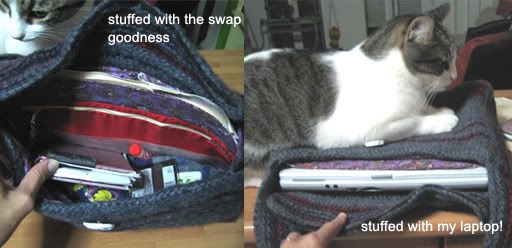 the bag has beautiful lining, and is padded so that the laptop is protected... and came with some velcro? when I first saw it I went like huh?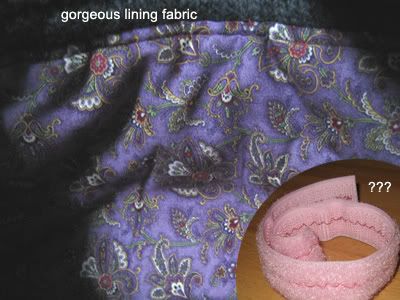 it has a divider, too! with a pocket, a zipped pocket, and the greatest charms ever
check out also the crafty button to close the bag!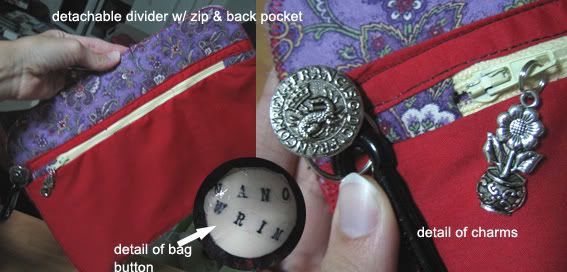 and action shot of dorky me with laptop packed for nanowrimo at my building's elevator, which happens to be the only place where there is good light
I never thought a knitted bag would be so sturdy, and that a knitted handle would take a laptop's weight, but it does, and feels sooooo comfy! I love my new bag!!
inside the bag came a bunch of great things: some cards and papers to write ideas and such. my fave ones are the star folded, and the cats! did I mention I love cats? she completely took my passion for my three kitties in and everything shows it!
there are also many cuts with sayings about cats. they are lovely and so funny
also some pens in my fave colors, beautiful pencils with sayings about the planet (already in use), delicious chewing gum I am currently chewing, and cherry lipbalm! I never find so yummy flavors in my city and I love it. It's already being used and in my purse
and the secret files! she wrote for me the funniest story starring me, my cats, my contact in the USA (she) and the goodies she crafted for me. Tonya, my dear, please excuse me for lauging out lout at the zipper issue
there is also explained the meaning of the velcro I found inside the bag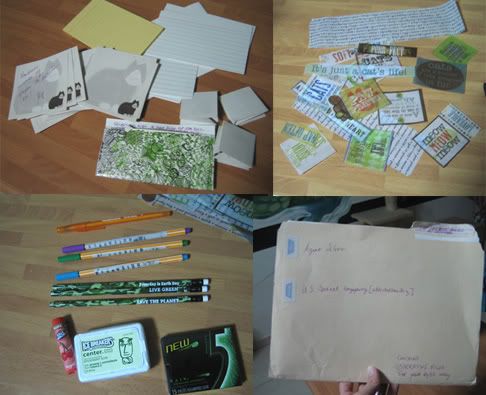 a handmade notebook. which is just PERFECT. the cover has also words about kitties, and the inside she completely stitched (was this called coptic binding?) and filled with pages all different. I just love the different textures, the writings on some of them, the special add-ons like the letter soup (is it called like that) for procrastination goodness
and the bookmarks! this is absolotely awesome and also being used in my purse instead of the plain boring moleskine I had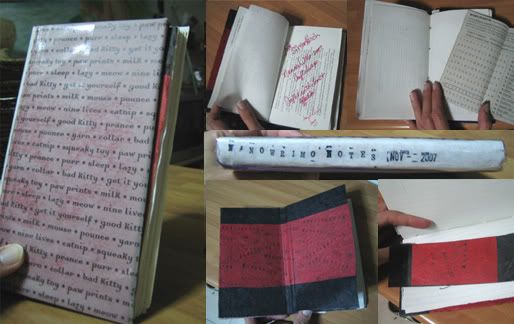 and last, but not least, the knitted wool socks I am currently wearing
this last night the weather cooled and I was feeling cold, so the perfect socks arrived at the perfect moment! they are soft and couldn't fit me better. and the colors - my fave! the loveliest shade of purples & greys for sitting in front of the computer and write with warm feet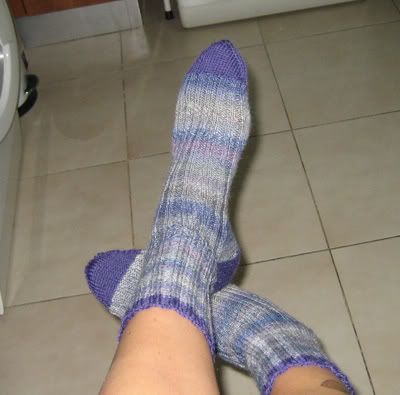 tonya, I love it ALL SO MUCH!!! and it's useful! I can't thank you enough for being such a great swap partner. now I have the worst swap anxiety and can only hope you will enjoy as much as I have opening the package and looking at what I crafted for you
I can't stop smiling!