i'm totally gonna make some of these for myself! the main change i'm gonna make, though, is i'm gonna use a velvety material for the inside, cause that keeps the headband from slipping back (i had one like that in high school). plus, then, you can reverse it to pretty velvet for a special evening out!

I have the same problem - my hair is stick straight, fine, and really "slippery," for lack of a better word, so headbands eventually slide off the back of my head (this is NOT a good look, trust me).
Here's a tip I learned from a friend in high school who did this to keep his kippah on securely - stitch in some velcro! Make sure to use the rougher "hook" side, not the softer "loop" side. The hooks grab the hair nicely and keep everything in place. Here's one of mine: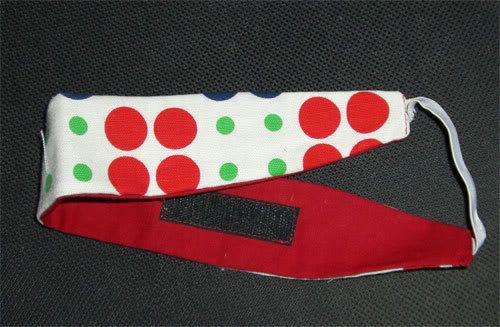 It's got a piece of velcro sewn in near each temple. Just make sure to have it around your neck before you brush your hair, then slide it back.
I will be switching to ponytail elastics!
These are awesome ideas! I need me some headbands