There's a bit of a backstory to this one, I guess. We were thrilled when a couple of our very musical friends announced they were getting married. And even more thrilled, of course, when we were invited.
This particular couple has been attending our various cabin trips, where we spend the weekend tucked in the middle of the woods, sitting around the campfire playing music pretty much non-stop. She is an amazing singer and guitarist. He plays the guitar and sings as well. But it's such a treat to watch them play together. She sings and plays guitar, and he accompanies her on his djembe drum.
Long story short, since it was a "don't bother with gifts" sort of wedding (hah, yeah right!), without a registry, it seemed fitting to gift them with a simple quilt that showed them how squishy and wonderful they make people feel when they create music together. It was kind of rushed, and certainly could have been better. But meh, I gave it to them just the same.
No real pattern to speak of. Just kind of winged it. The sun is machine pieced. The tree and couple are hand appliqued. The details in the sky are hand embroidered, which is something I'd never really done before.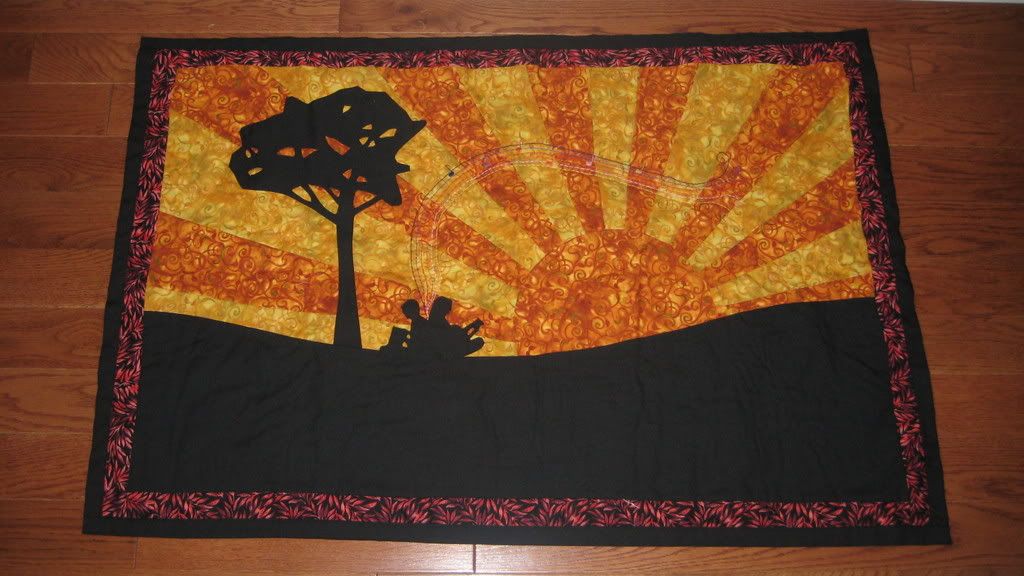 Close-up of music notes amongst happy little guitar strings
Super annoying-to-create applique of the couple sitting under a tree. Him on his drum, her with a guitar. Kind of hard to make out, I know.
But it's very hard to applique something that teensy!