I have a Roaring 20's party this weekend, so naturally I jumped at the excuse to make myself a flapper dress (I LOVE flapper dresses!) and came up with this: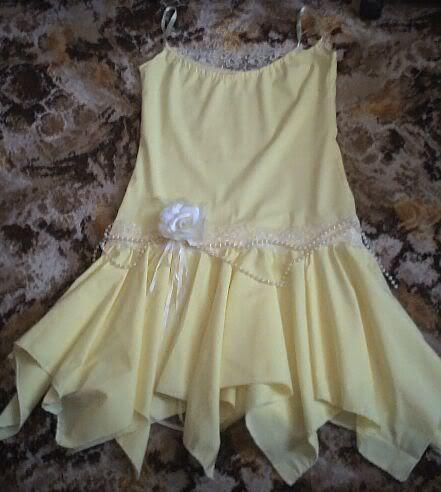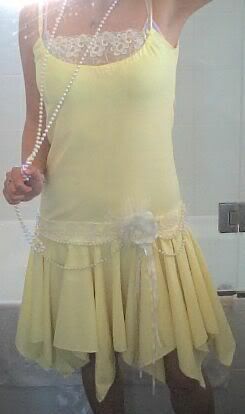 Here are the side views:
And a close up of the skirt: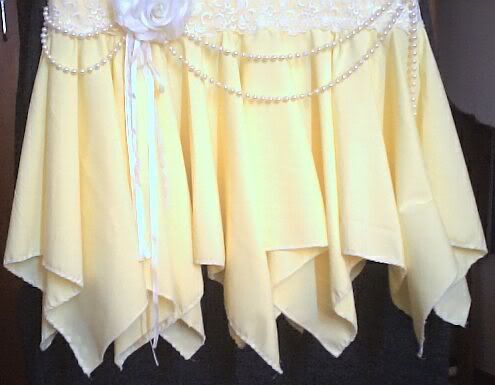 And the rose pin, pearls and lace:
I used a top and a skirt I already had as a pattern, although I had to modify the top a bit. The top was quite low so I added lace to conceal any boobage that may occur while dancing. The pearls hanging off the drop-waist are two pearl necklaces that I cut up, and the rose pin I purchased from a shop, although it would be quite easy to make. The straps are ribbon, which is thread through the casing along the top.
It ended up turning out a lot better than I thought it would and was pretty easy to make too. The skirt also twirls really well - I can't wait to go dancing in it!!!
---
Tutorial!!!
The circumference of the circle should be approximately 1/3 of your hip measurement. Depending on the type of the fabric you use, it may stretch a little, so best to cut smaller and then you can cut it bigger if you need to.
Where I have indicated the length, this measurement should be the shortest you want the dress to be (don't forget to include seam allowance).
To finish:
Sew skirt to top part of dress - depending on how big you cut the circle you may need to gather it to fit.
Insert ribbon into top of part of dress to form straps.
Hem skirt.
Add trims.
Feel free to ask if something doesn't make sense, and post pics when you're done!
** Check out crafty423's and princessblueberry's version on page 12, ImperiestroMary's version on page 16 and Tia Cherry's, danaefromclay's version on page 17 and cavegrrl's version on page 22!