I made this from two cotton bandanas (total cost $2). All you'll need is some bias tape for a casing, or make your own casing; and some elastic and your sewing machine and iron, some straight pins. I used white thread.
First all, wash the bandanas, they're going to shrink a little and you want to remove the sizing. And then iron them smooth.
take one of the bandanas, and cut a section off of one-this will be the back-I cut off a little less than a third of the bandana off. Put aside the smaller part you cut off, this will be your string straps. Fold over and make a narrow casing.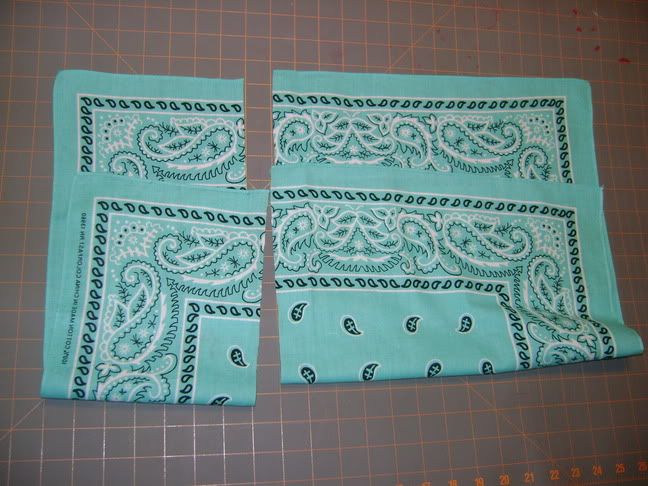 Fold the second bandana in half, and use a straight edge(or eyeball it) to cut off the top corners at a slight angle. This will be the part that goes under your arms. Check the photo out to see how I did it.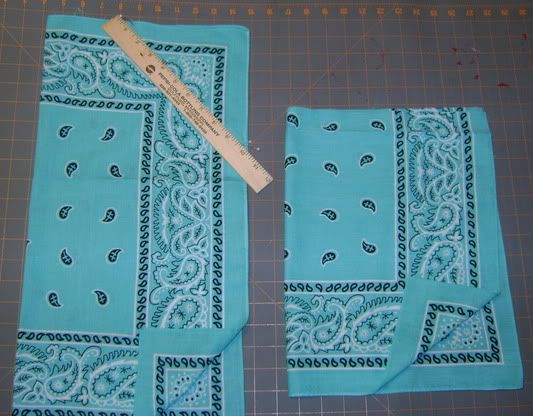 .
Fold over the raw edges and make a narrow casing.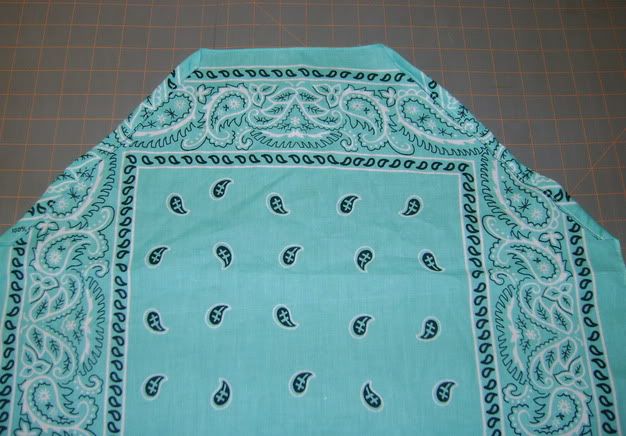 Put the front and back together and mark where the back casing and front meet. Fold the front piece down where the mark is and iron it. This will be where your casing goes. Cut a small square of leftover bandana from the triangle corner pieces you cut off the front bandana. Pin it to the center of the line you just ironed, and make 2 buttonholes about 1/2" apart. Your string ties will come out here. Cut a length of bias tape a little longer than the front banadana.Turn under the edges and sew it, and then iron it smooth again. Now pin it to the front on the wrong side and sew it down. It should meet up at the bottom of the casing on your front piece.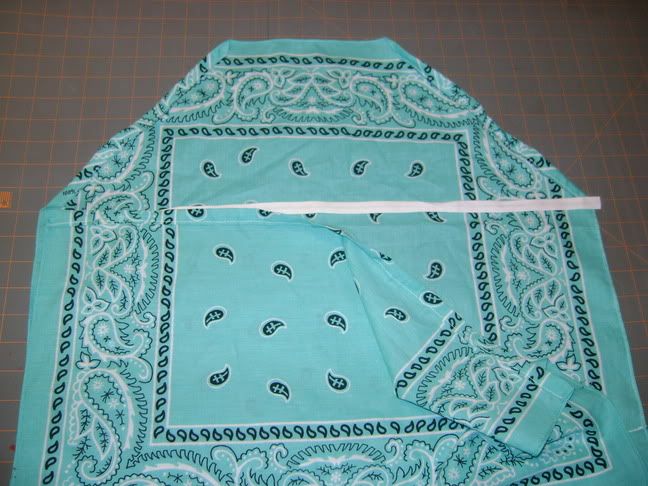 Measure across your back and cut out a piece of elastic about 2" smaller, and insert the elastic in the back casing. I like to use a safety pin, but a bobby pin will do if you don't have anything else. Thread it through and sew down the end on one side, then continue threading it through til you come out the other side, and sew that end down, too. You're finished with the back piece.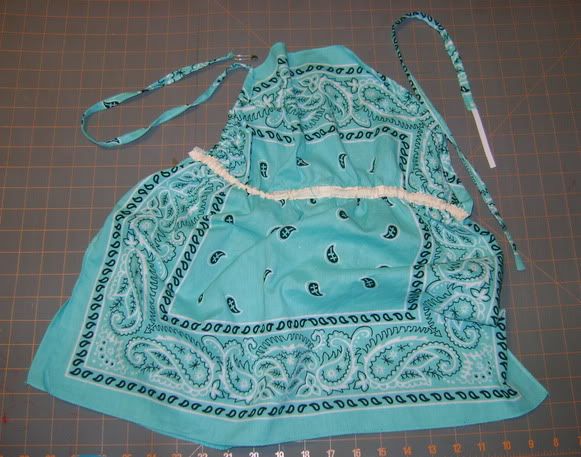 Take the smaller piece you cut off the back bandana, and cut it into 4 strips. These will be your string ties. Fold the edges over and iron, then fold in half and iron. Now you have 4 string ties. Cut 4 pieces of elastic each about 4" long and sew a piece of elastic to each string tie. Tie a knot on the loose end of each string tie. Thread one string through each side of the front sides, sew the elastic end down. Now pin the front to the back, right sides together, and pin the sides together. Leave about 3"-4" free on each side at the bottom. This leaves more room and just looks cute. Iron the side seams smooth. The secret to a more finished look is ironing!)
Tie the two front strings together and you're done! All this elastic makes it adjustable to many different sizes. It will fit pre-teen to adult depending on how tight you tie it
It's meant to be very loose and comfortable for a very hot humid climate like where I live (tropical beaches of the Mississippi Gulf)
I hope I didn't confuse with the directions! It's a lot harder to TELL how to do something than it is to SHOW how; so I hope the photos helped. Just let me know if you decide to make one and need a question answered
This is great for a beginner to tackle, and just in time for vacation!
cherry