btw- here's a picture of the nautical buttons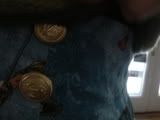 Colorado! Yeah, me too! I was really pissed when they announced the second blizzard in a week.

Cute skirt, I like the flouncy-ness. Plus..you are just adorable.

yeah i was pretty upset about the second storm too, it keeps ruining my plans to see eragon
but anyway, thanks for compliments.