sewknitter
's shop of sewing, knitting, tatting, and crafty goodness. . . .
OPEN!!!
Custom: knitting, tatting, crochet
Non-smoking, non-scented house, & no pets. (wish I could have a cat -- I do love cats.)
International buyers welcome!
Clickable thumbnails, click pictures for larger, closeup images.
Newest items on top!
.
Handwoven rayon chenille scarf/sashed belt --2 pts
Size is 6" x 60". The ends have twisted warp, leno lace borders and fringe. Regularly sold for $45 in national galleries, yours for 2pts!
Tatted Collar - 2pts
Cupcake notecards 1pt
Set of 4 handstamped cupcake cards. Will customize. Choose icing colors, and can add words. I stamp cherries on the envelopes, both front & back.
swap enclosure cards 15 for 1pt
CUSTOMIZED
with your name or swap name. Assorted card stocks.
CHOICE: ASSORTED OR OWL OR BIRDIE (or ask, I have tons of stamps and card stock)
Look at the ones I made for lapoli:
Cards I made for Corduroy Cat:
Corduroy Cat assortment1
Corduroy Cat assortment2
Corduroy Cat assortment3
Corduroy Cat assortment4
Corduroy Cat assortment5
kitties puke sampler - 2pts
Says: Kitties will puke on everything you love.
NOTE: Will customize kitties or sampler
Bunnies cabled Vest 2pts
Acrylic with google eyes on front, cottontail pompons on back. Soo cute! Like a herd of wild bunnies jumping!
Size? chest finished width is 18" with lots of give.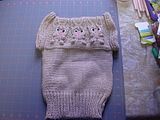 Blythe doll hat with tatted hat band - 2 pts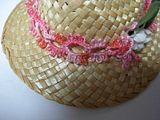 Acrylic knit stretch vest/shell 1 pt
Hand knit in true red/black variation.
This is a total ribbed vest about 36" finished chest, 20" long
True red & black, the colors in pics are off.
Acrylic hat, hand knit on small needles 1 pt
machine/hand washable
tawashi -random or custom color - 1 pt
"The tawashi (たわし or 束子, tawashi? lit., a bundle) is a Japanese traditional scrubbing brush to wash off the dirt. Crocheted from 100% acrylic yarn. Scratch-free, and used for dishes and small cleaning jobs." -- quoted from
http://en.wikipedia.org/wiki/Tawashi
The twashi is
4 inches across
, soft and makes dishes more fun to do!
here are some I've made in the past: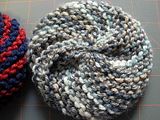 I have a variety of colors, please PM before claiming, I'll make it up as ordered.
glass magnet set .5 pt
sealife related. seahorse, hermit crab, jellyfish (on the side, sorry!) and assorted seashells.
Jumbo gems on bobbie pins 1pt per pair:
the jumbo gems are 1 1/4" +/- and set onto silver plated bobbie pins.
Extra strong, japanese fabric/paper was used to create the designs. This paper is called Yuzen washi and is lushly decorated with color and golden metallic highlights.
Black/Gold flower 'wheels" set of jumbo 1.25 inches gems (1pt)
red-orange summer set of jumbo 1.25 inches gems (1pt)
purple feathers set of jumbo 1.25 inches gems (1pt)
Leaves-squares set of jumbo 1.25 inches gems (1pt)
gold lettering set of jumbo 1.25 inches gems (1pt)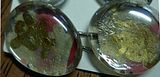 cranes set of jumbo 1.25 inches gems (1pt)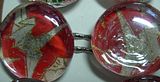 SUPPLIES:
Cross-stitch Light switch plate kits - 2pts each
Can be used as cross-stitch OR light switch plate. (choose square or oval)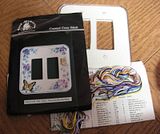 sewing craft patterns - 1pt each
Choose from Cats; cabbagehead friends; or basket friends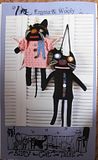 Knitter's Companion Book -- 1pt
read about it here by clicking
Plastic charms .5 for all:
Rubber sushi on tray .5 for all:
Long-prong-snaps .5 pts per package, 2 available.
extra grip for a secure fit, package of
10
12 sets, size 16, open white ring:
unmounted rubber stamp set .5pt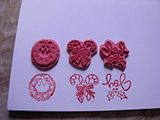 NEW!
That's My Sister's Apron pattern 1 pt
New, unopened, regularly priced $12.99, this vintage apron comes in FOUR sizes!
Mother Large & Medium; Daughter Small; 18" doll mini.
3 styles.
http://www.thecalicocat.com/patterns/Aprons/thatsmysistersapron.jpg
Knitting Ephemera -1pt
US only, one 9" x 12" envelope stuffed with vintage knitter's ephemeral material. This is old charts, hand-written/drawn patterns, vintage magazine and newspaper patterns. Came in with a vintage knitting machine. Most is about 30 years old.
Musical push buttons, 1pt
Musical Push Buttons measure 1 3/8" x 3/8". Used for making musical cards, scrapbooking, in dolls, stuffed animals, toys, books, clothing and more. Any where you want to add a bit of music in a simple "push to play" format!
Tunes available:
It's a small world (1 available)
Rock a by baby (2 available)
Teddy Bear picnic (1 available)
Music Box Dancer (1 available)
-----------------------------
Claims sold from me -
Send by Sep 20
to Ptarmic Wumpus -- Cat notecards & envelopes - (2)
Delivery Confirm: 420803039101805213907822880039
Send by Sep 27
to Zelda.Suicide - F&F socks - (3)
Delivery Confirm: 420276169101805213907791387188
________
total sold - 5pts
Claims I have made -
Send by September 10
Zelda.Suicide to sewknitter --1lb of Buttons --1 pt
Zelda.Suicide to sewknitter --bag of fleece pieces -- 1pt
________
total bought 2pts
Points:
Started with:2
Pending:0
Current:5
TOTAL:5