Sewknitter's store -- coming to a planet near you -- <giggles>
OPEN
Non-smoking, non-scented house, & no pets. (wish I could have a cat -- I do love cats.)
Clickable thumbnails, click pictures for larger, closeup images.
Ginko Leaf pendant 1pt.
This is an actual ginko leaf. I punched the flower from it. Painted the punched out flower & highlighted the leaf, then coated both with resin.
The punched out part is a see-through window.
Note: I have a great many punches, and can do many types of shapes. I have 3 more leaves, and can maybe access some more.
Ginko leaf pendant finishing: I will add a gold-tone or silver-tone jump ring.
Optional 1/2 point extra: I also have a pale yellow cashmere yarn to create a cord, black cord, brown leather cord.
crochet button necklace 2pts
Vintage buttons crocheted and grouped together.
5 strands of buttons, each 15 inches long, plus 11 inch ties.
Hand strung then crocheted.
(The ties can also be changed to a length of your choosing.)
tatted flower magnet set 1pt
fun sayings and inspiration.
glass magnet set 1pt
sealife related. seahorse, hermit crab, jellyfish (on the side, sorry!) and assorted seashells.
Jumbo gems on bobbie pins 1pt per pair:
the jumbo gems are 1 1/4" +/- and set onto silver plated bobbie pins.
Extra strong, japanese fabric/paper was used to create the designs. This paper is called Yuzen washi and is lushly decorated with color and golden metallic highlights.
choose set of jumbo gems:
Black/Gold flower 'wheels"
red-orange summer
purple feathers
Leaves-squares
gold lettering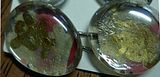 cranes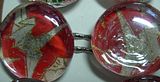 SUPPLIES:
Musical push buttons, 1pt
Musical Push Buttons measure 1 3/8" x 3/8". Used for making musical cards, scrapbooking, in dolls, stuffed animals, toys, books, clothing and more. Any where you want to add a bit of music in a simple "push to play" format!
Tunes available:
It's a small world (3 available)
Rock a by baby (2 available)
Teddy Bear picnic (1 available)
Music Box Dancer (1 available)
Claims from me:
Claims I have made:
LaughingLark to sewknitter - Hark! A host of headless angels! - (1)
POINTS
Started with: 3
Current: 3
Pending: 0
TOTAL: 3