I just finished my second one of these. I've been trying to find a cool thank-you gift for my friend who played the harp at my wedding. I saw something similar online, but not only couldn't afford what they wanted for it... they were out of stock anyway.
The image is from
Stamp Francisco
- I had the stamp, so I stamped it on good paper, scanned it, enlarged it and printed it on a white cloth transfer.
Then I sewed it onto fabric using a small zig-zag (the fabric could be ironed-on, but I didn't think this material would cooperate), then sewed the fabric into a pillow shape. Not only was it super-easy, I think she's really going to love it! (One of her harps has a skull & crossbones on it.)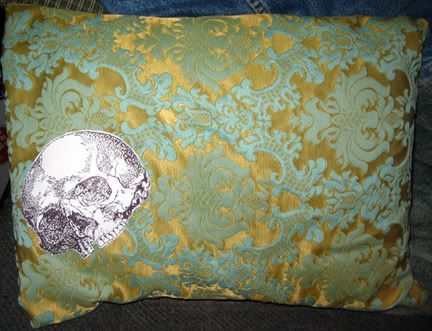 Then I had to have one for myself, of course!