I made this purse with McCalls 6045 pattern and some stuff around the house.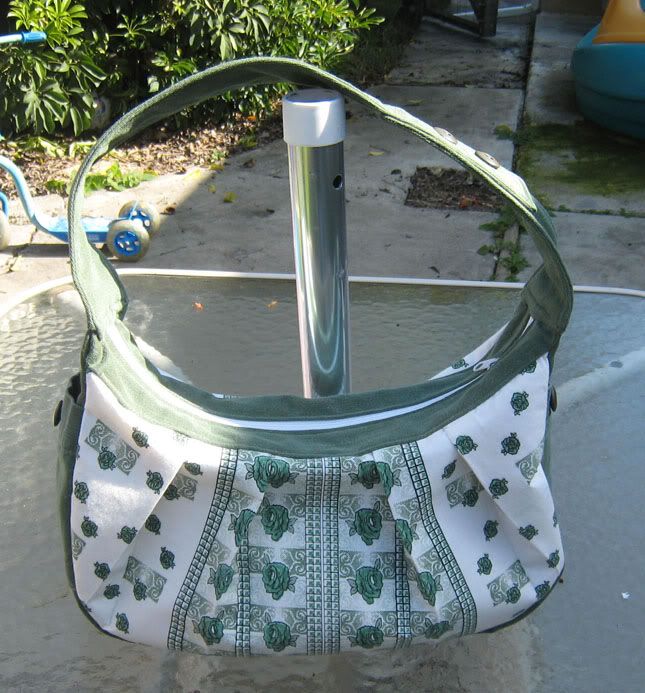 What stuff, you ask? Well, the army shirt I bought at a thrift store in the 90s and ironed on a butterfly patch and wore every day. After 3 kids, I just don't have the willowy frame to pull it off anymore, but couldn't bear getting rid of it. So, it became my new purse. Man, these shirt are tough!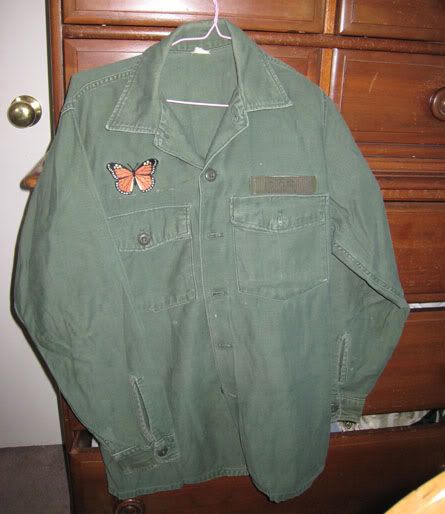 Here is the muumuu I bought from a thrift store a little more recently I planned to make a hippy maternity shirt out of. Unfortunately, pregnancy has a way of making you waaaay too tired to reconstruct. It does to me anyway. So, a year and a baby later, it became the perfect lining and contract fabric in my new purse. I love the way I was able to take advantage of the print on the front and in the lining pocket to show it off.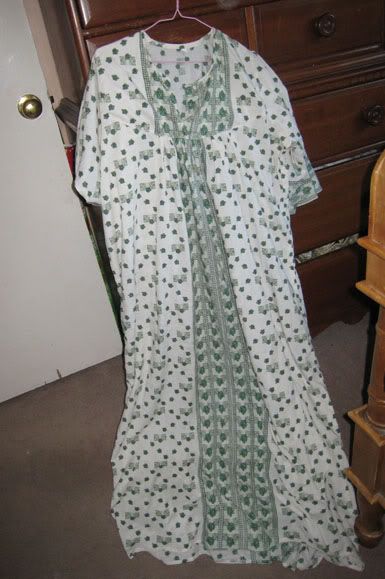 Here is a detail of the handle with the army buttons for decoration.
Here is a shot of the the side pockets I was able to use the army shirt pockets for. I love side pockets on my purses to keep my cell phone and keys in so I can access them easily without having to open the purse.
And finally, I was able to put the manufacturer's tag right inside the zipper just for a little homage to the fabric's original form.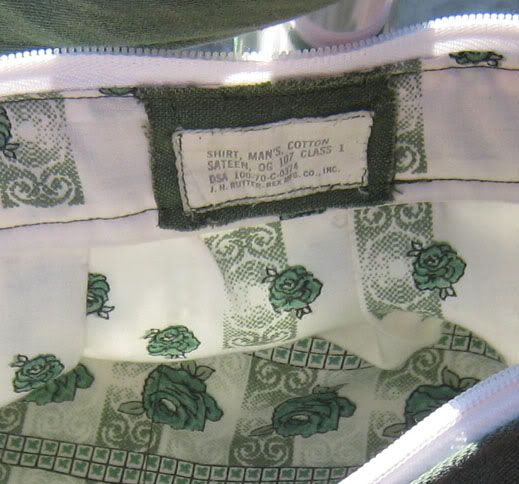 It's the first purse I made from a pattern and needlessly complicated. Three different kinds of interfacing, spray on adhesive, and self-made bias stuff to hide the seams inside? I skipped a few things, but mostly followed the pattern, and it wasn't too bad. It took the better part of a day. It would be faster next time, not that there will be a next time any time soon!