I love tie dyeing, but this one looked like it still needed a little something so I reverse appliqued an Ohm symbol onto it. The applique is knit.
I drew the design in reverse onto a circular piece of fusible web and ironed it onto the inside of the shirt. then I cut out the design, peeled back the paper from the fusible web and ironed on a black circle of knit.Then I topstitched around the design.
The flash made the colors look way more fluorescent than they are irl!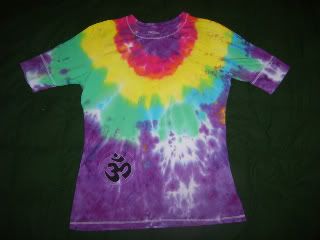 close up of applique: