This giraffe had been standing on my WIP-shelf for a couple of months and this weekend I decided to finish him up, and well... today I actually did. I'm so proud.
Don't know why it's so hard to complete projects, I must have about fifteen halfmade amigurumis on that shelf. >_< I think I'll have to finish all of them before I start something new... That's easier said than done, right?
Here are some pics of him/her. Boy/girl? What do you think?
The little bag is filled with polymer goodies. Clicky
here
for more info.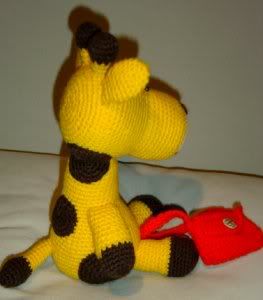 The pattern is from
Amigurumi Collection 3.
I loooove that book!
I made some minor changes to the face to get the look I wanted. The giraffe is about 25 cm tall and very chubby and hugable.
Hope you like him too.
/Mia
Edit to add link.