Once upon a time, I thought I'd convert some pants that were too big into a skirt, thinking I had nothing to lose. They came out fine, but were still too big, so I let them sit around in my closet to waste away. One day, I was struck with the idea that I wanted to stencil my favorite childhood tree onto something, and I was reminded of the long-forgotten skirt. I wouldn't want to stencil something I can't wear, I thought. So, I recycled the skirt yet again into a bag to carry to school. I made it around August and only just got around to taking pictures.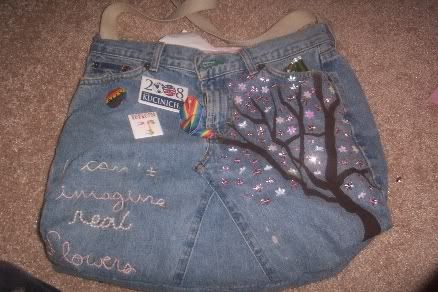 The tree is supposed to be a type of Japanese maple (one reason I waited so long to post this, Japanese maples have been a trendy craft theme and I didn't want to impose any more on the board!) The embroidery says "I can't imagine real flowers," from the e.e. cummings poem "in a middle of a room." The bag's lopsided in this picture because a very large notebook is currently residing inside.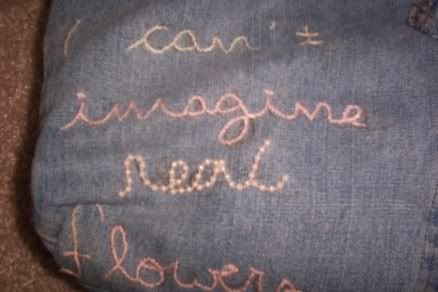 I misjudged the amount of space I needed at the bottom of skirt when I was embroidering it, so the word "flowers" is really on the bottom of the bag. Oh well.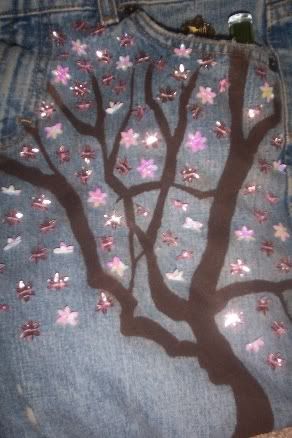 A closeup of the tree stencil. When I ironed the fabric paint, it made the denim around it a little dingy. Anyone ever have a similar problem with Jaquard? It seems to be awful every time I use it. You can't tell in real life at all, though, especially with the sequins obscuring it. The camera just decided to be unflattering.
Pencil holding pocket. I never got around to washing the pen marks off from where I marked to sew. Again, oh well!
The lining. I think you can make out a coffee stain.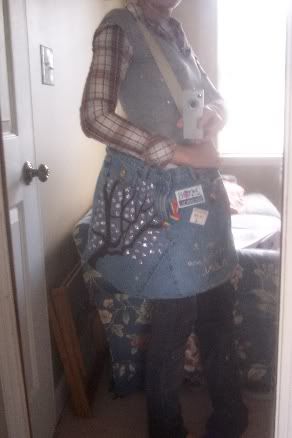 Action shot!
I should have taken pictures when I first made it, but it's been so full of stuff that I never wanted to empty it. Sorry it's dingy! It's gotten plenty of love this semester. I love it a lot! There's even a secret pocket in the lining because I didn't sew up the zipper.
Thanks for looking! Comments appreciated!