so this was my first time EVER working with clay and what a better time to start then senior year of high school when your graded and judged on your skills... well luckily for me i seem to have some skill for ceramics SOOO this is what i managed to make for my semester of artistics ceramics. each assignment had specific building techniques and requirements so thats why the collection doesnt really "flow."
-----
this is a mug made from coiling, it was my second project ever. we had to put a face on it, preferably our own faces. i gave it my best but this looks absolutely nothing like me but i think the face turned out okay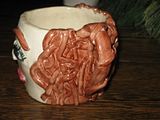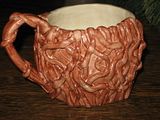 -----
this was my very first and FAVORITE project. it is made with the pinch technique. the black glaze bubbled which wasn't intentional but i think it looks even better like that, it adds character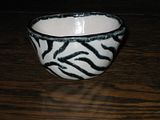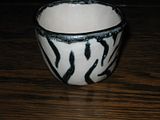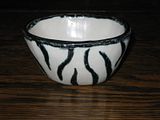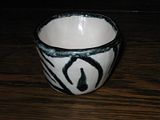 -----
this is also made with the pinch technique. we had to make an "organic" pinch pot AKA anything found in nature. i went with the simple flower. the glazework did disappoint me because the red and orange were supossed to blend & melt together but they turned out looking stripy, but its growing on me.
-----
this was our christmas present project. we could choose the building method and design. my mother collects snowmen and candles so i decided to do a little of both for her. The base/head of the snowman is coiled and so is the hat/candle holder. this is one of my favorite projects because it turned out so well and i just think its cute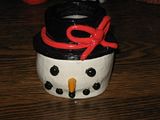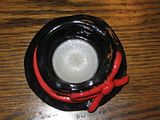 -----
this was the biggest project we did- a cookie jar!! we had to incorperate a character on the jar. This project was perfect for me because my nickname is Cookie (short for Brookie Cookie) and naturally my favorite cartoon character is cookie monster!! the pot and lid were made with coils & the slab technique. Sadly during the first bisque fire the cookie monster body fell off due to air pockets but nothing a little glue couldn't fix!!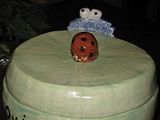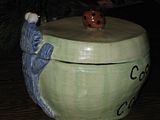 -----
here's just a picture of the whole collection!!
feedback is wanted and greatly appreciated!