I usually make earrings but once in a while I'll do something different. Like this pin that I think is remeniscent of a seahorse. My son says 'slug'. He's lucky I went through all that trouble to give birth to him.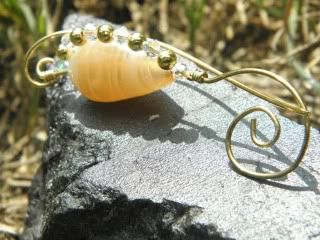 My question is: How do I work the end to a finer point? I have used files but the point is. . . sloppy. What would work? Knife sharpener? Hand held sander? A specialty machine that costs hundreds?
a whetstone/sharpening stone/oilstone. the dremel will rip your hand off as well as half of the metal. the whetstone will give you a beautifully sharp point on pins and earrings. no jewelry toolbox should be without one!