Meet Proudhorn, a World of Warcraft tauren shaman!
Here he is! He's based off my boyfriend's lowbie shaman (Stonemaul server) of the same name, and he was my first summer project ... I just found crafster, and I wanted to share a few of my projects with you guys. He's definitely my best toy to date. He's about American Girl-doll sized (image for scale
here
), and made of a rather furry fleece with vinyl for his hooves/horns. His hair/beard/tail were put in one at a time, and are just black yarn. He's entirely hand-sewn, and his gorgeous eyes are
Van Dyke's
glass (for taxidermy, usually XD). They can be kinda pricey, but man, they're so pretty.
From behind ...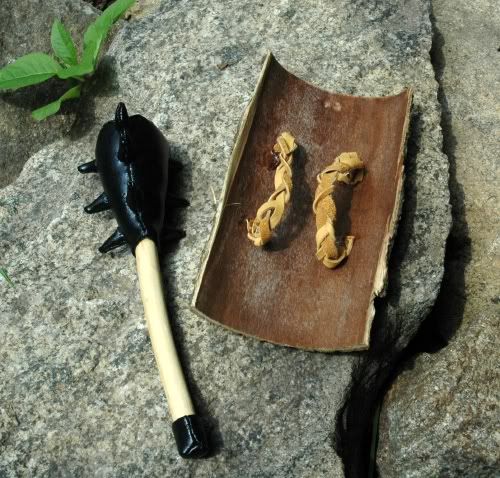 I spent as much time on Proudhorn's gear as the model himself... his clothes are pretty normal, but the vinyl-and-wood mace (it's playsafe!) and wooden shield were a little trickier. Superglue goes a long way.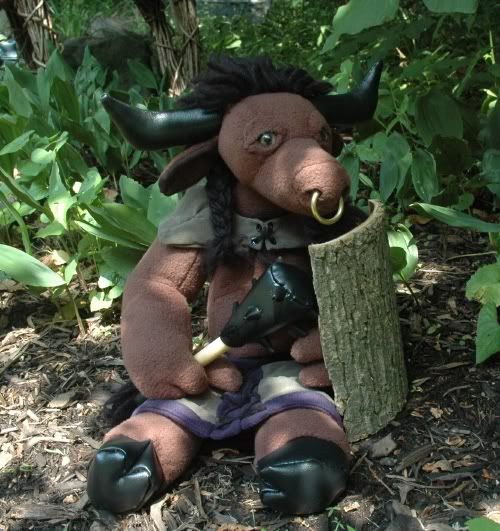 And there he is, all decked out.
I made the pattern for everything you see here. (The mace was probably the hardest, but the most fun to play with now. XD)
Thanks for looking!