It's been a reaally long time since I posted any projects here. It's also been a really long time since I've had the time to come up with and sew a new design. Three cheers for not taking summer classes! And throw in a fourth cheer for this new bag I just finished moments ago.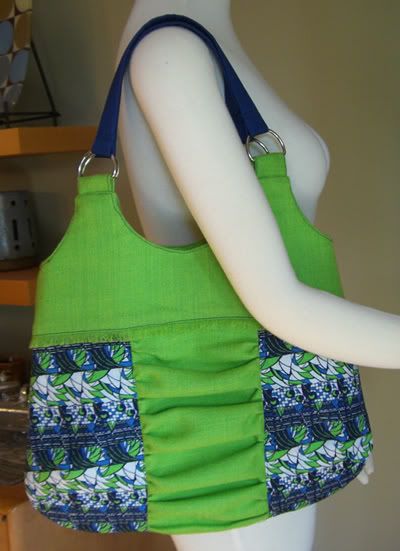 I'm pretty tickled with how it turned out, it was a labor of love. At first it had green straps where the d-ring tabs are , but they were too short and wide, and I thought it was too much green, so I tried this d-ring treatment, which was a first for me. I'm not sure how I like the contrast of width between the d-rings and the strap, but I do like the color contrast. I thought about putting a tab closure or some buttons on the front, but I think with the bright colors and the busy print, there's enough going on there as-is.
It's got a small patch pocket inside for a cell phone and a magnetic snap. The printed fabric is the excess from shortening a vintage dress, the green wooly stuff was part of the stash I inherited from my SIL's MIL (no, that's not my mom
), and the strap fabric is from the remnant bin at JoAnn's. I think the d-rings are from a thrifted crafty grab bag, but I can't remember for sure.
I'd love any feedback I can get. I like the bag, but it took me a whole day (and then some as I ran out of blue thread after biz hours). I tend to reinvent the wheel every time I make a new bag, a habit which doesn't lend itself much to productivity or good time management! I'm trying to break the habit - is this one good enough for a repeat performance? TIA!