I start a lot of projects, but don't finish many. The other day I was cold (it is winter here in Brisbane) and sick of not having any winter FOs to wear. So I grabbed all my grey yarn out of my stash, and knit up a scarf from a strand of each (6 in total) on the thickest needles I own (a whopping 25mm
). It only took an hour or two, I stopped when one of the yarns ran out. So I knitted up a beret (only 4 stranded on 8mms this time) to match, with what was left. Wanna see? Of course ya do...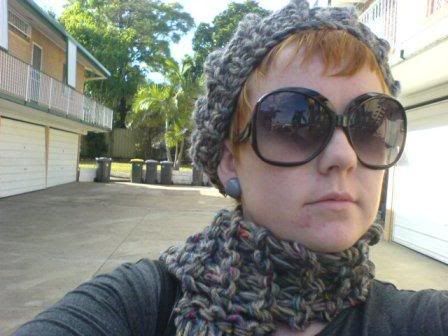 Please excuse the odd look on my face, it is my cold face I think.
Because I used so many different balls at once, I won't list them all out. But just about all your favourites are in there.
I got compliments all day for this set, and I didn't take them off because the office was too cold. I just found another ball of grey yarn, I don't know how I missed it the other day. I have two partial balls left from the scarf and beret still too. What do you think, should I make wrist warmers to match? They'd be pretty chunky even with only 3 strands
There is a few more pictures and a bit more info on my blog. it is here
http://missvicki.wordpress.com/2007/06/18/picture-obese/
scroll to bottom, but I should warn you that that post is really pic heavy.