Hi there! I needed to make some presents, and I loved this tutorial:
http://community.livejournal.com/craftgrrl/3674467.html
I had everything at the house already, so I gave it a go. I think it turned out really well, and was really happy that I didn't have to try to turn a kind of complex pattern into a stencil. Because I suck at that. Seriously, this was way easier, although it kind of took a while doing all the painting.
I'm including some pics of the process too.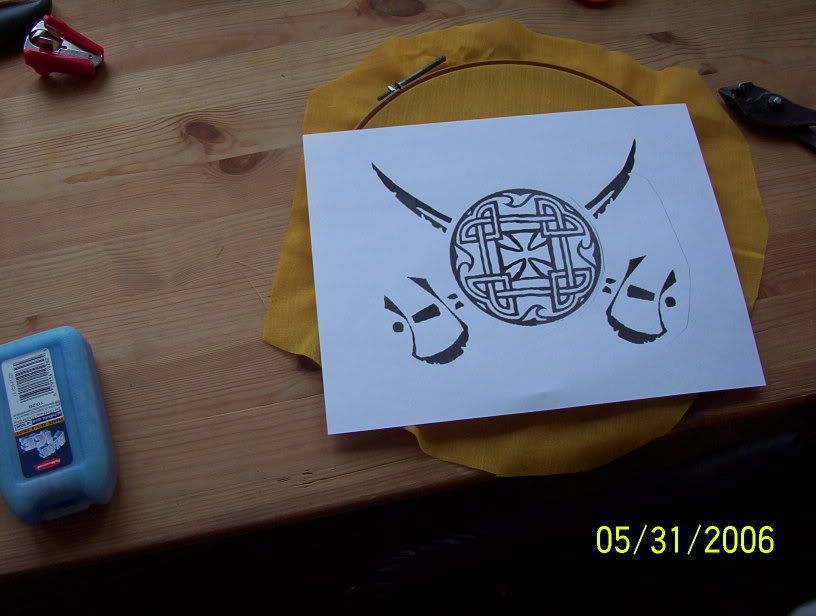 This is the logo of a band my brother loves, Amadan - they do Celtic rock and are from Portland, Oregon, our hometown. I thought he definitely needed a t-shirt, and I emailed the band and they were SO nice, and sent me a clean image of the logo.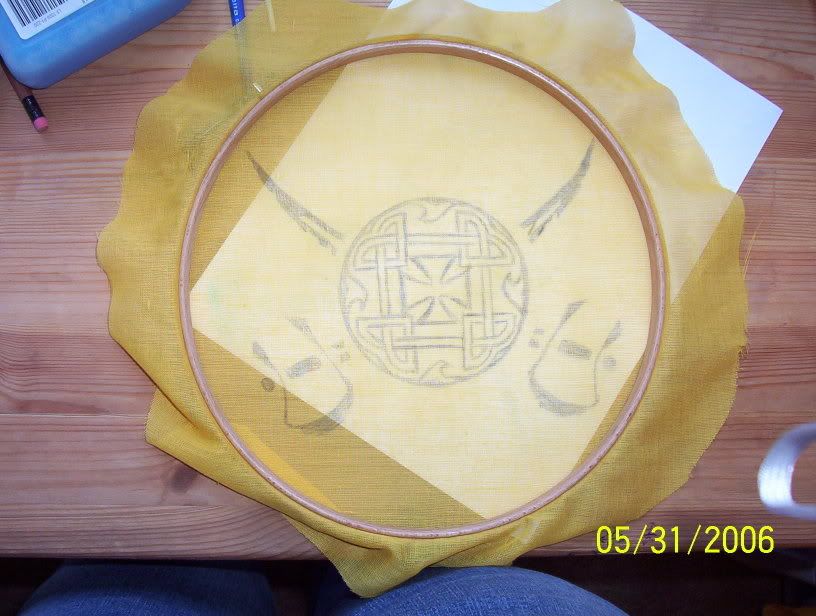 So I did the tracing thing - this hurt my wrist, and annoyed me that I had to trace the pattern twice. But I found an easier way - see below.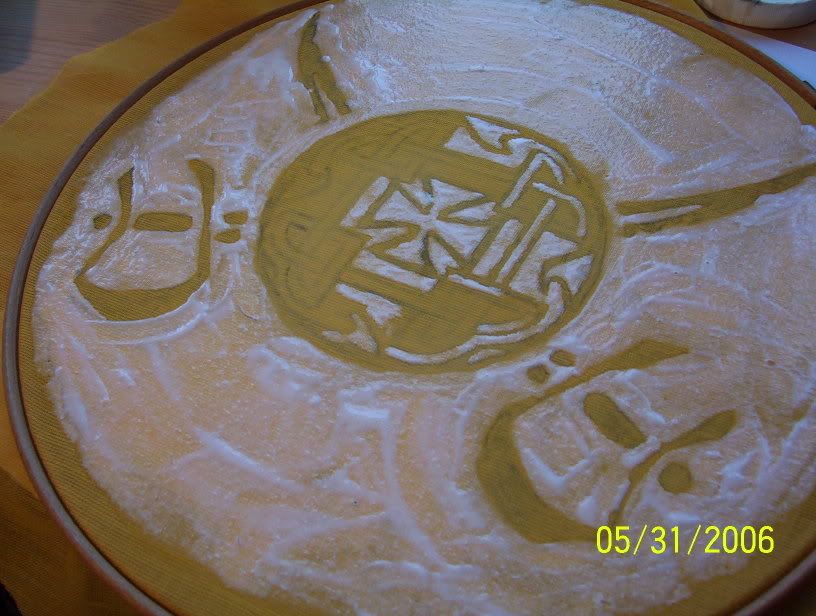 Now this may not be news, but as I was painting on the Mod-Podge, I accidentally got some on a glass frame that was in the way. I of course noticed it after it had dried, but it just peeled right off! So... I've made a couple others (below) using a big picture frame. After I attached my fabric to the frame, instead of tracing the picture onto the fabric, I put the image I wanted to trace
under
the glass from the frame, put the frame with the fabric on top of the glass, and then painted the Mod-Podge directly onto the fabric, hence onto the glass. Let it dry, and then peeled the entire thing off the glass. Tada! No tracing! It may be an imperfect method, but it made it SO much easier for me.
Ok, more pics..
Finished design (yes, I had to touch up a couple areas, since I was really afraid of over-saturating the design and didn't want it to smoodge all over the place)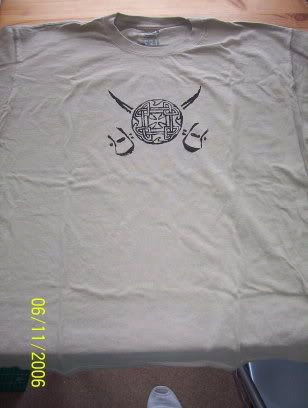 And finished t-shirt!
OK, here are some other shirts I made for him too.
This is an ad for the same band, that I found online somewhere. Thought it was pretty bad-ass.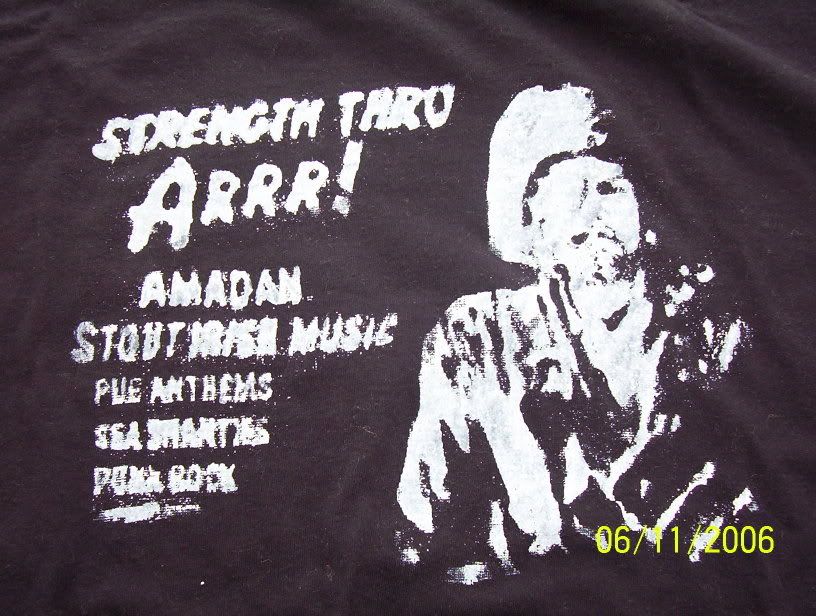 Close-up. It came out all blurry, but I think it looks cool that way. I also had to fill in a couple spots afterward. But the only real problem was that the white has since turned kind of grey-ish. It still looks ok, but I need to work on how to get a true white. (using acrylic/fabric medium. I'm afraid of screen inks. Photo-emulsion sounds scary-complicated!)
And this is a combo stencil / faux-silkscreen. This was actually the first one I did onto an actual shirt, as a test, but I placed the image way too low, so I added the words/title in up top. Didn't do a great job of matching the greys, but maybe it will look intentional.... Right?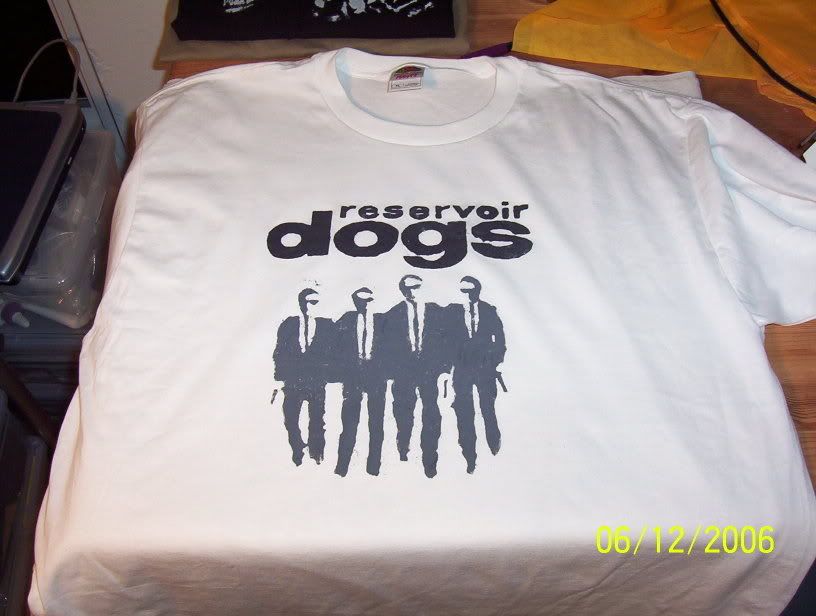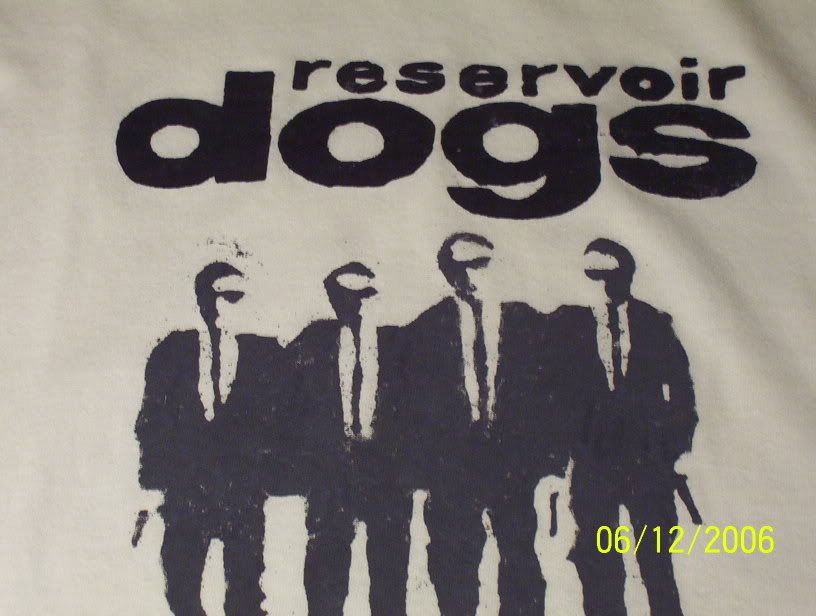 What do you think? This is in the right folder, right? I'm still fairly new, and really really new to the stencil/silk-screen thang.
Thanks for looking!