...well I lagged behind, so you got ahead.
This is my Bright Eyes shirt. I originally did the stencil in black but since the shirt is such a dark blue you couldn't see it at all. so instead of throwing a bipolar emo fit I sat down for about 2 hours patiently painting over it in silver glitter paint. End result, which I am completely in love with: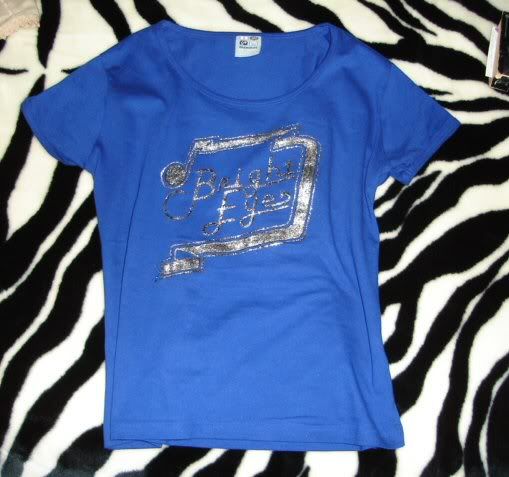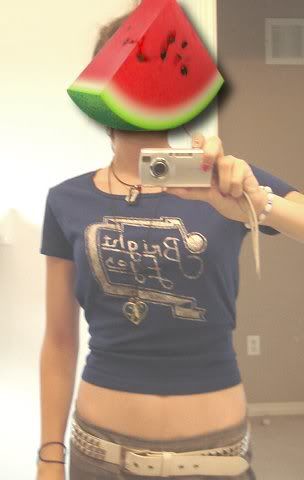 (the shirt is tied in the back in this photo, that's why it looks so short)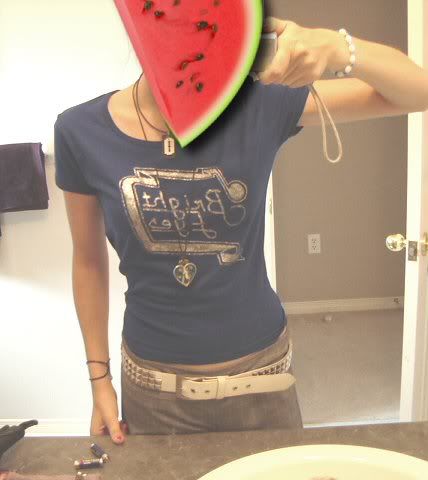 (no, I don't know why I'm holding the camera so weird.)
sexy glitter close-up action
the pictures don't do it justice.
stencil is made by me from a shirt on the saddle creek site. sorry conor, I love you (not in a fangirly way.. *shifty eyes*), but I just don't feel like paying more in s&h than the actual shirt costs.
I haven't posted on craftster in a while. I've been in a bit of a rut lately and have not been up to crafting, just lurking on craftster and thinking 'I'll do it later". I promise to be more active.. (not that anyone cares).
in exchange for the photo-y indie rock goodness I bring, I make a humble request: can anyone find the stencil of Courtney Love that was in stencilry for me? I've looked high and low and don't know why I can't find it. pretty please.
comments, criticisms, whiny emo music apreesh/hatred welcome. =]