First, I glanced at a tutorlal that said to fold the material into half, then half again, then cut. Then I took a 50-year-old BEAUTIFUL (but doesn't fit) taffeta circle skirt and folded it in half and put it on top of the folded sheet, then, using the old skirt as a pattern, cut around the bottom. I know I should have taken measurements for the top, but instead, I freehanded it. I ended up having to trim more until it seemed like it would fit my waist.
The worse part was pinning the bottom for the hem. It took FOREVER, then I ironed it b/c I read that it was easier to sew a circle that way. And it was. The waist band, which I didn't get a picture of, is actually the top wide band of the sheet. The skirt closes on the side with the waistband tie. I used the entire width of the sheet (I think it was full). Oh, and I cut a slit in the side, then hemmed that, so I could pull the skirt on b/c it's not stretchy. There is enough material that it overlaps when I tie it.
I LOVE it!!! It's not perfect, but I still LOVE it.
Here are the pics:
Close-up of the front:
Moi, modeling the skirt (apparently I can't keep my eyes open):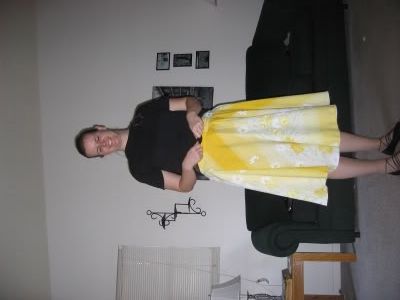 Obligatory action shot. I got just a little dizzy, thus out of the frame, while I was waiting for the timer to go off.
... No matter how many times I try to fix this picture, it's still wrong. I don't get it.
Comments appreciated!!!