At long last, I have waged through my fabulous yarn ball from untoherselfalone...and oh, am I glad I did, because there were cookies inside. Woohoo!
Before:
After: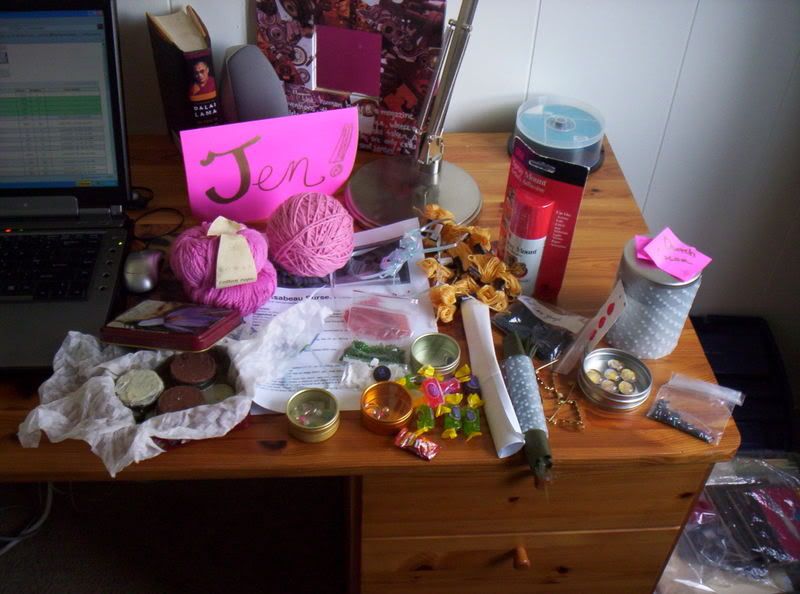 I am swooning with happiness! She sent:
- dutch cocoa, which I already tucked into and it is marvelous
- Spray Mount! I <3 Spray Mount!
- 1 rather honkin' ball of pink cotton yarn
- 2 ropey Rowan cotton balls of pink yarn
- Seed beeds, orange and green
- Stitch markers in cute little containers
- Buddha magnets - I LOVE these!
- Candy and cookies ~ a girl after my own heart
- a delicious silky piece of olive green fabric for purse lining
- a recipe for biscotti to accompany the cocoa
- apple-shaped buttons
- more beads and boot fringe beads!
- a gaggle of embroidery floss - how did she know?
- the little hardware pieces for making pins
- did I mention the cookies?
The pattern is for a purse, which I will be making post-haste.
Untoherselfalone is a fantastic swap partner! I'm all giggly and rolling around in the beads.