Anyone else here watch the 90s TV show Gargoyles? I totally loved it when I was younger, and just bought the 1st season on DVD. Now... let's just say I'm reliving my obsession. Yes, I'm a geek.
I'd done some stenciling before (grade 9 art...
) but this is my first try at something that I actually want to wear. I cut the design out of mat-tack (contact paper, I guess) because I wanted to get some detail, but I ended up freehanding a bunch of it, and botched some parts. Still, I think I'm happy enough with it to wear it.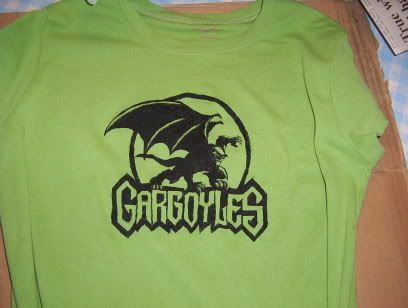 Here it is in all its new-painted glory.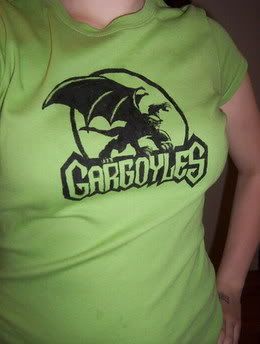 And here's the action shot. I didn't make it crooked! Yay!
I have a question though. I used textile medium and acrylic paint, heatset it, will wash it inside out, etc, etc. but once it starts fading (everything does eventually, right?) can I go back over it and touch it up? And then just heatset it again?
This is the first project I've posted here so... don't scar me for life or anything!