I received today! HOORAY!
kcfirecracker totally spoiled me.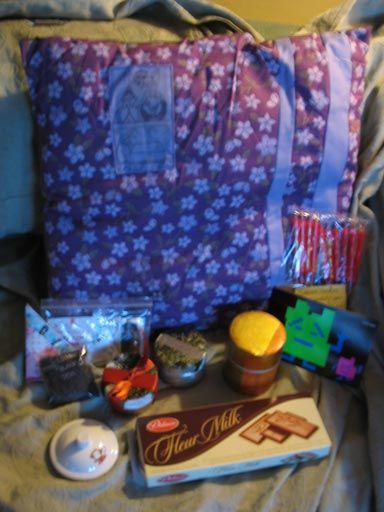 (Almost) everything together:
- a wonderful pillow in my favorite color combination (purple on the front, and green on the back)
- a packet of cool candles - I've never seen any quite like this before, LOTS of tea (both in teabags and loose tea, so I can use my new infuser)
- pretty tins that she decorated
- YUMMY chocolate shortbread cookies, and
- postcards/stickers of the Mooninites.
I think it's fantastic that she sent me the Mooninites postcards, especially since she sent them
before
the whole fiasco with the ads in Boston, my neighboring city. (If you don't know what that was about, you can read about it
here
. Personally, I find the whole thing hilarious.)
Also, in the bottom of the box was a lid with a cute little cartoon monkey on it. I like it, but I'm slightly confused, since there was nothing for the lid to go to - I'm worried that kcfirecracker's teapot is missing a lid now.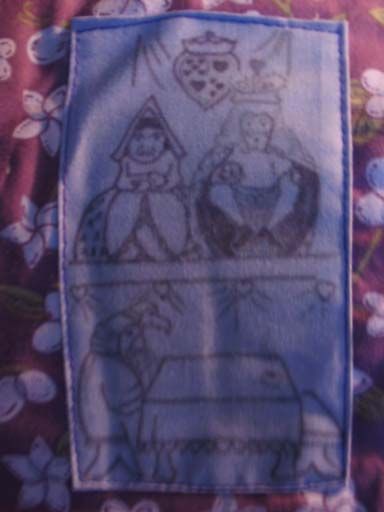 The pillow has a great Alice in Wonderland image on it, stamped (?) in two different places on the pillow. I love the Queen of Hearts!
And here you can see a better shot of the tins, and the BEST shoes ever! I absolutely love cloth shoes like these, and I think the teacups and "hat tag" on these are just incredible. I had to take the shoes off to take the picture - I put them on as soon as I opened the box! They're a little bit looser than most of my shoes, but not loose enough to fall off, so that's actually perfect - this way, I can wear them with thick socks so I can still wear cloth shoes in the winter! (As long as it's not snowy.
)
The teas she sent me are Spiced Tea Chai, Mulling spices, Orange Pekoe, Black Vanilla, white rose tea, peppermint rose tea, hibiscus and herbs, and lichee black tea. I don't know which to try first!