Lol, ok this is my first post here and already i'm begging for help.
So I started making the Shocking Pink Coif (but in blue) from Knitty and all's going well except I did the m1 the wrong way and I have these holes. Now I don't mind these holes, in fact I like them. There lies the problem, instead of ripping it out when I realized my mistake I said "Oh well I like it this way." Always the deviant. Anyhow now I'm not sure how to make the decrease side match, my logic tells me if I just k2tog i'm not going to get holes. So how do I make it match? Oh and here's a pic: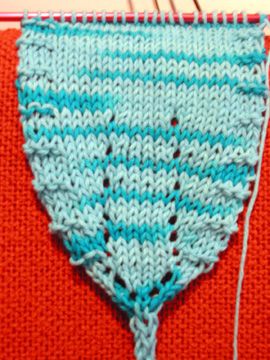 P.S. This was taken a half hour ago and I just couldn't put it down so I'm even farther along now, I'm at the point where I'm supposed to decrease. Eek! why do I make things more complicated then need be? lol.