A while ago I posted a tam I made
here
. Unfortunately, it was cool yet totally impractical as it was a.) way too damn loose and b.) freakin' GIGANTIC and HEAVY. Needless to say, it hasn't seen the light of day because I don't have a head like the elephant man...
I've written two more tam patterns since then, the first of which ended up way too small and looked more like a puffy little mushroom cap than a tam, but the second finally ended up exactly as I wanted it to!! It's big and slouchy and I can fit all my hair in it but it stays firmly on my head and it's soft and squishy. The yarn is just some Malabrigo I had in my stash and I admit, they weren't my first choices for a color combination but I really like the way it ended up. It reminds me of the little mermaid
.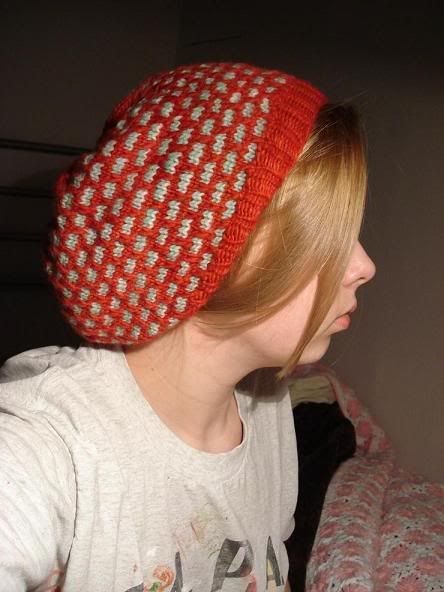 This picture shows the overall shape the best...see, nice'n slouchy!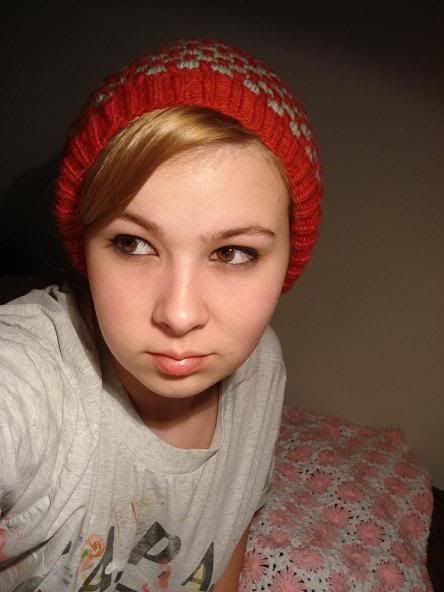 Snuggly!
Obligatory arty type beauty shot.
The stitch pattern is an incredibly easy slip stitch brick sort of pattern (think ballband dishcloth, but in stockinette).
If anyone is interested I could post my pattern.
Here's the pattern, gals!
Gauge: 4.5 sts on size US8 needles = 1 inch


With MC, CO 80 sts, divide among 4 dpns.
Work in k1, p1 rib for 1.5 inches


RND 1: (Increase round) increase as follows *KF&B 3 times, K1 (rep from * to end of round)

You should have 140 sts

RND 2: Knit one round even

RND 3 & 4: With CC: K3, Sl1 purlwise (you're slipping a red stitch) to end of round

RND 5 & 6: With MC, knit from beg. to end

RND 7 & 8: With CC, k1, sl1 purlwise *k3, sl1 purlwise (rep to end of round)

RND 9 & 10: With MC, knit from beg. to end



Basically, you repeat RND 3 - RND 10 ad nauseum till you have a length you like.
Mine was about 7 inches when I stopped.

You can decrease however you like but I chose to put a stitch marker in the middle of each DPN and k2tog at the beginning of each DPN and right before my marker.

**For those not in the know, MC stands for MAIN COLOR (it's the red in my hat) and CC stands for CONTRASTING COLOR (light teal in my hat)
If my pattern writing skills are crap, let me know and I'll try to be a little clearer.